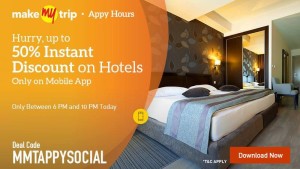 The contrast between the exuberance in through-the-cycle private equity funding in the India internet industry and the sobering realities hitting valuations of listed India-focused internet firms is stark. For the listed entities like MakeMyTrip competition from similar/different business models, price and/or marketing aggression, low barriers to entry, easy funding for competitors/substitutes etc., – all of which are impacting metrics of these firms and their valuations. The public/stock market, it seems, wears a lens for scrutiny quite different from the private side.
The internet space critically need examination that if the 'winnability' of business models is premised primarily on price competitiveness, deep funding pockets and less so on erectable barriers to entry and differentiation, a winner-takes-all outcome is hard to come by. The travel segment is but one example of this.

MakeMyTrip's two disappointing quarters in succession for their flagship fast-growing Hotels & Packages (H&P) amidst heightened competitive intensity drove the stock price decline and are raising serious fundamental questions about the sustainable competitive advantage of the H&P business. In addition to the traditional competitors that MMYT faces, a number of new competitors are emerging. Among traditional competitors, Goibibo is very aggressive, providing discounts and cashbacks disrupting the market given easier access to capital. Moreover, competition is likely to emerge from the aggregators of budget hotels such as OYO rooms and Zo Rooms – which could over time have their own platform play, and draw traffic directly on such platforms (thus directly competing with MMYT). Not to mention a host of other early stage travel & packages internet properties such as TripHobo, Travel Triangle, Tripoto and Trip38 among others that have received funding in the past six to eight months.
OYO Rooms – a relatively new player with a business model (that of an aggregator) – recently raised ~USD 100 million from Japan's Softbank Corp and other investors with an estimated post-money valuation of about USD 350-400 million. MakeMyTrip at EV of USD ~410 million is valued only slightly higher than OYO Rooms despite the formidable customer franchise and revenue base of the former.
The public markets have taken cognizance of this as can be seen from the stock performance. In this backdrop, we think two commonly cited hypotheses in the internet space (the winner-takes-all outcome and revenue leadership leading to profit leadership in the absence of unit economics) critically need examination / bearing out. Winning the valuation game on the private equity / venture capital funding side might not mean the same on the public side (once firms get listed).