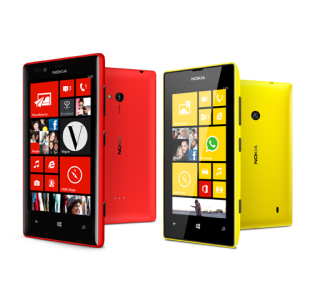 Nokia India has launched two smartphones to its Lumia series with the Lumia 720 targeted at the mid-range segment and the Lumia 520 targeted at the entry-level market. Nokia's CEO, Stephen Elop, the launch of such smartphones now firmly puts Nokia and Microsoft's Windows Phone 8 presence across all smartphone price points, starting from the Lumia 520 at the entry level to the Lumia 920 at the highest end, thus making a better mobile experience more broadly available.
The Lumia 720's main highlighted attraction is the camera which has an aperture of f/1.9 on a Carl Zeiss lens, bigger than all the smartphones in its price-range and also some of the high-end smartphones in the market. The pictures it takes are clear and bright in low-light, and dazzling in daylight. The Lumia 720 features a 4.3-inch WVGA display, a 1.0GHz dual-core processor, a 512MB RAM and 8GB of storage, and is positioned between the Lumia 620 and the Lumia 820.
The 720 also comes with a host of Nokia services such as Nokia Music, HERE location, regional HERE Drive, and HERE Transit services and LiveSight, ensuring that users can find their way in any country. Nokia Music allows for music discovery straight out of the box, with music streaming free of advertisements and the ability to upgrade to Nokia Music+ for unlimited downloads.
However, with the flood of Android Devices in the market and the PlayStore capturing the imagination of customers across the board, the going will be certainly tough for Microsoft's Windows Phone 8 eco-system and should be content with Low Global Market share in the battle of next generation computing dominated by Android and iOS.
Asus, ZTE, TC, Huawei and so many White Box SmartPhone manufacturers have lined in front of Google HQ to get a stable version of Android and help them realize rise against the Samsung SmartPhone Challenge.