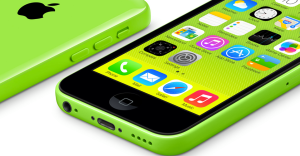 While Apple would like to pull the iPhone 6 launch forward, we believe that it is highly unlikely due to the switch to a new display technology (in-cell for the iPhone 5 and 5s to on-cell for the iPhone 6). The iPhone 6 will likely have a new design and 4.8" display.
Apple and the OLED
For the iPhone 5, Apple took a more revolutionary approach and used the first massmarket in-cell display. An in-cell display embeds the touch inside the LCD array in an elegant design that is even thinner and lighter than GF2. Unfortunately, after investing so much to develop in-cell, Apple discovered that it does not scale well beyond 4" displays. In comparison, Samsung is using on-cell OLED displays for its flagships phones. OLED has the advantage of not requiring a color filter (reducing layers) and has touch integrated into the top of the OLED module rather than inside like in-cell.

Apple is aggressively investing in OLED alongside its display partners. Apparently Apple has begun to procure equipment for LG Display, Sharp, and Japan Display. While it is theoretically possible for Apple to launch an iPhone 6 with OLED, we believe it to be highly unlikely and stick with our 2 step transition thesis from in-cell to on-cell LCD and then on-cell OLED.
We believe the secular trend in OLED panel sizes is clearly gravitating toward panels ranging from 4" to 11". We believe that most, if not all, handset OEMs will be forced at the high-end to adopt OLED for a part or the entire line-up of their high end smartphones due to new "unbreakable" displays and eventually (likely within two years) flexible display capability.
Apple iWatch
We see a March launch as most likely, though it could be shifted. We expect a $300 price point, 1.8" display, Wi-Fi, and Bluetooth but no cellular.
Apple iTV
iTV As we continue to chase this unicorn, while we were fooled last year by similar data, we would note that Apple is procuring thousands of TV panels at the 55", 60", and 65" size levels. We would typically hypothesize that this would mean a launch within 12 to 15 months but we were burned once before so we are just passing along the information. The panel suppliers are LG Display and Sharp.