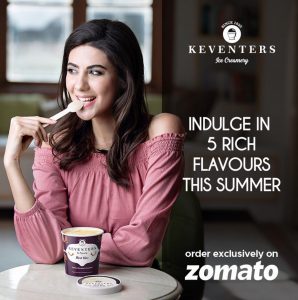 The Indian restaurant market is highly fragmented with only 6.2% of the value being driven by chain restaurants and the remainder being standalone restaurants (source: RedSeer). This makes the role of an aggregator like Swiggy / Zomato important as it can aid the growth of the industry by giving restaurants the ability to market, engage and acquire customers without the need for sophisticated digital marketing tools, branding expertise or their own delivery infrastructure.
Zomato adds value to the restaurant partners in the form of – Discovery The restaurant partners can get listed on Zomato's online discovery platform for free, which can help them increase demand and visibility of their offerings.
Hyper-local delivery network Leveraging Zomato's fleet of delivery partners, the restaurant partners can get food delivered to customers, without having to invest in own delivery capabilities. Overall, this might drive incremental orders and increase kitchen utilization and thereby improve operational efficiencies.
Sales and promotion channel Zomato offers advertisement solutions to run targeted brand marketing, sales and promotion campaigns for restaurant partners.
Business support services Multiple tools like analytics and dashboards, table reservations and payment processing, etc. are available to restaurant partners to enable them to run their businesses better. Further, through their Hyperpure offering, Zomato helps restaurants manage their kitchen supplies more efficiently.
How Zomato as an Aggregator Platform Earns Revenue ?
The amount of delivery costs paid to delivery partners consists of the customer delivery charges that Zomato collects from customers and the availability fee that Zomato pays to the delivery partner encouraging him to offer his services on the platform, which is reported as part of outsourced support costs in the P&L. Zomato's reported revenues thus do not include delivery charges earned from customers and paid directly to delivery partners. Nonetheless, Zomato tracks revenue plus delivery charges collected on the platform.
As on date, Zomato's entire revenue recognition is Restaurant Commission from table booking and delivery orders. Average Order Value shot up to Rs 400 per order in FY2021 driven by (1) order premiumization led by onboarding of fine-dine restaurants onto the platform, (2) lower proportion of single-person orders, (3) bunching up of orders from customers who were ordering multiple meals in a day, and (4) stronger data-driven personalized recommendations provided by Zomato to customers.
Zomato currently gets 50% of its orders from Tier-I cities (top-10 cities) and the remainder from Tier-II/III cities. Over time, the proportion of orders from Tier II/III has been increasing due to relative under-penetration.
The competitive Indian food services space comprises (1) food delivery players like Zomato, Swiggy and new entrant DotPe (2) cloud kitchens like Rebel Foods, and (3) branded food services players (including quick service restaurants like Domino's, McDonald's, Pizza Hut). Food delivery players also compete with multiple other players in the food services industry including restaurants that own and operate their own delivery fleets, traditional offline ordering channels, such as take-out offerings and phone-based ordering, local publications, and other media, both online and offline where restaurants place their advertisements to attract customers.