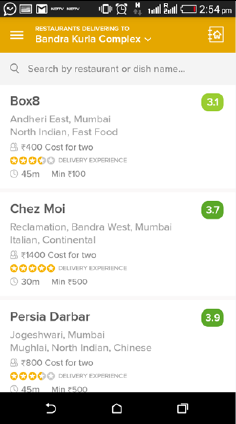 Zomato launched online ordering, a significant revenue opportunity. Zomato recently launched its food ordering service in India. The service is currently live across 9,000 restaurants in 7 cities. In addition to the main app, It has also launched 'Zomato Order' exclusively for online ordering. Online payment option is not available yet; Zomato Wallet is shown as 'Coming Soon'. As of now, it is not doing any delivery in-house and is relying only on delivery by restaurants. Restaurants pay commissions of 7.5% to 15% per order – the rate varies based on the delivery rating provided by the user. Online ordering could be a significant revenue opportunity for Zomato; assuming 20-30k orders per day, average order size of Rs400 and 10% commission, revenues could total Rs300-450mn vs. Rs450mn of advertising revenues earned in India in FY15.
Foodpanda and TinyOwl are two key online food ordering services in India Foodpanda currently handles 15-25k orders a day while TinyOwl handles 5-8k orders a day; average order size is around Rs400. Both are currently using a mix of restaurant and in-house delivery. While Foodpanda was initially relying only on restaurant delivery, it has recently been ramping up its own delivery due to a number of issues such as phantom orders by restaurants (to benefit from discounts), issues with quality of delivery and issues with payment for CoD (Cash on Delivery) orders. We understand that both charge the restaurants 10-15% per order, which can be higher for in-house deliveries.
Online Payment Vs Cash On Delivery
70-80% of orders placed on Foodpanda and TinyOwl are paid online vs. only 20-30% CoD, which is the opposite of e-tailing in India where CoD is the dominant payment mode. We suspect that online payment option is a key part of the value proposition of online food ordering as most restaurants that do home delivery currently only accept cash payment.
Zomato's market leadership in restaurant discovery should help. A large number of users are already using the Zomato app; Zomato has 70k restaurants listed on its database of which it already has a commercial relationship with 10%.