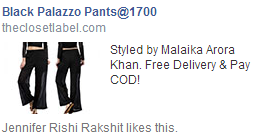 We talked to businesses such as Restaurants, SMEs, job consultants, real estate builders and brokers using online advertising for feedback. Online classifieds are perceived to be cheap and most are likely to increase their online spend. It is not a case of "either-or" as many are using multiple sites.
The cost of advertising through Justdial, Google or Zomato is lower and better targeted than a newspaper or radio ad; for a real estate broker in Mumbai an annual subscription to 99acres or Magicbricks is paid back through commissions from a single rental deal. Online currently is around 10% of the Marketing Budget. Most users get reasonable number of leads from online classifieds; however conversion rates can vary as targeting is sometimes an issue.
Real Estate Classifieds
The field for real estate classifieds is relatively open with preferences distributed across 99acres, Magicbricks, Commonfloor and Housing.com. While 99acres seems slightly better entrenched, likely due to a longer history, we found real estate companies and brokers often seeing better lead generation from newer sites such as Commonfloor and Housing.com


Restaurant Classifieds
We found restaurants showing preference for Zomato over Justdial as the former is perceived to be more restaurant focused and generates better leads. However restaurants are willing to try a commission based model like Food Panda where there is no upfront subscription. Justdial has started offering a similar model under its search plus
services.
Advertising Costs on Zomato Vs FoodPanda Experience shared by home Delivery Chain in NCR
Top most banner ad on Zomato costs more than 1 lakh per month; Top most ad on side panel costs Rs50-60k per month while bottom-most ad costs Rs6-8k per month. Number of clicks, page views etc. are tracked by Zomato; also calls generated on Zomato come through a different number; All such calls get recorded and can be reviewed later
Foodpanda directly takes the order and passes it to me but I don't get to interact with the customer; They charge 5-15% of revenues but no upfront commitment required, which is good.
Indian Online Market is moving towards Mobile thus it could get tricky to Advertise the old way on Small Screen going further. Innovations on this front can help the eco-system.