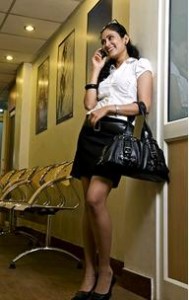 The Indian telecom industry reported robust revenue growth of 5.6% q-q in the Apr-Jun quarter. Revenue growth was driven by increases in revenue per minute with most large operators reporting 4-6% increases in pricing. Year-on-year growth also improved to 9.7% after having slowed to 6.5-7% in last two quarters. Industry revenue growth picked up across circles.
Airtel, Vodafone, Idea Corner 70% Revenue Market Share.
Airtel, Vodafone and Idea combined revenue market share (RMS) crossed 70%, the highest market share of the top three in over five years. Despite India still having 12 telecom operators, industry revenue is consolidating. This quarter, Bharti, Idea and Vodafone gained RMS while RCOM, Tata and Uninor lost share. Uninor's market share peaked at 2.6% in 1QFY13 but, post the SC directive on licence cancellation, the company has reduced its operations and its national RMS has reduced to 1.7%. The top three operators reported strong market share gains in each of the 22 circles in India, alleviating any concerns on market share loss due to tariff increase.
Airtel revenue performance across circles was impressive having reported q-q as well as y-y improvement in RMS in most circles. In 1QFY14, Bharti gained RMS in 19 out of 22 circles and improved its RMS to 30.8% compared to 30.1% in 1QFY13. Bharti has done especially well in the eastern circles in India having made substantial market share gains in circles like WB, Kolkata, Assam, NE.
Idea Cellular continued its strong growth momentum. The company reported all time high RMS of 16.2% gaining market share in each of the 22 circles of operations. Idea's revenue growth was across the board, reporting more than 15% y-y growth in 15 circles. Idea's RMS was up 130bp in one year and 320bp in the last three years
The smaller operators can no longer afford to be disruptive, while the larger operators are behaving rationally and raising prices. We believe pricing has further headroom to increase and pricing driven revenue growth is likely to drive margin improvement.