GSM incumbents led by Airtel, Vodafone and Idea Cellular have regained the market share after seasonal weakness – in line with historical trends. On a structural basis CDMA / PSU operators have found it difficult to defend their market share despite 10-11% industry growth. Healthy execution and strong brand positioning, we believe, would drive market share gains for top 3 operators (Airtel, Vodafone and Idea). We believe Idea Cellular – as a pure-play wireless operator – will be the biggest beneficiary of the improving business dynamics (improvement in regulatory environment and pricing power). Industry revenues stand at Rs415.8bn as of QE Dec-2013, up 3.5% qoq and 10.6% yoy, with average ARPU of Rs158 (+2.6% qoq)
The following Chart Shows Circlewise and Operatorwise Revenue Market Share of Indian Telecom Operators in 2013.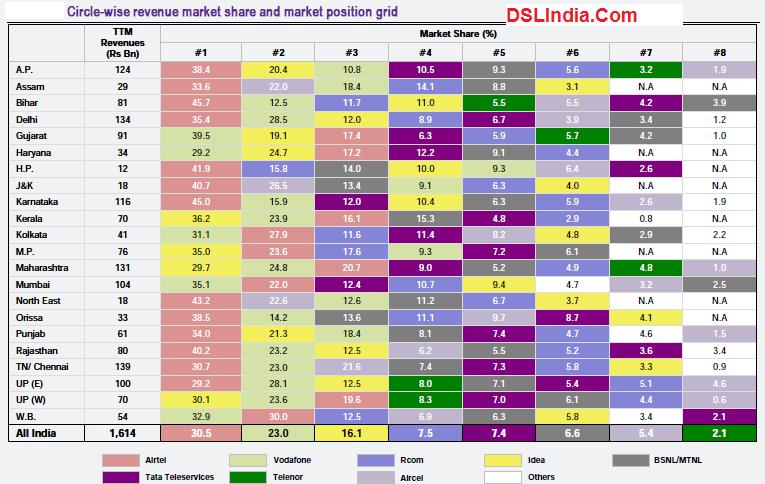 In the above chart it is evident that Airtel leads Revenue Market in 13 Circles followed by Vodafone in 5 Circles and Idea Cellular in 4 Circles together have revenue market share (RMS) of 69.7% for the Dec 2013 quarter;Reliance Communications, Tata DoCoMo, BSNL, MTNL are in the losers list blocking telecom reforms using Political clout and Trade Unions a drag on the Indian economy. Tata DoCoMo has lost the maximum (110 bps) market share on a yoy basis with RCOM (down 40 bps) and BSNL/MTNL (down 20 bps) being the other key losers.