Posted by
Webmaster
on Mar 11, 2015 in
SmartPhones Tablets
|
Comments Off on Apple Watch Sucks – Another iOS Controlled Device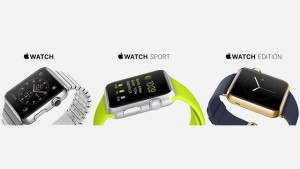 Apple Watch is a Big Disappointment and the very first look of it Sucks probably signifying the end of innovation at Apple with the demise of Steve Jobs.
It is equipped with features like customizable Glances, health and fitness capability, Siri functionality,
and numerous third party apps which are already available in any of our smartphones. The Apple Watch is designed to be managed through a user's iPhone, with the Apple Watch app available for download in iOS 8.2 (available today). The device also features pathetic battery life, defined as up to 18 hours during a "typical day."
The Apple Watch Sport, which features an aluminum case, will cost $349 for the 38mm watch face and $399 for the 42mm watch face. The stainless steel Apple Watch collection will range in price from $549 to $1,099 depending on the watch band and face size. Pricing for the 18 karat gold Apple Watch Edition collection will range from $10,000 to $17,000 and will be available in limited quantities at select retail stores which is totally worthless when one can get Finest Swiss Limited Edition Watches with Buy Back Guarantee unlike terrible Customer Service & Support from Apple.