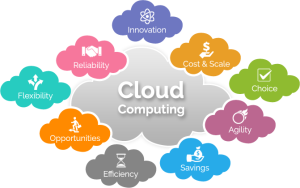 We believe Enterprise data center workload will continue a steady migration to the Public Cloud because the Public Cloud is more efficient, agile, elastic and is pay-as-you-go, and business users expect these characteristics from their IT infrastructure
Non-mission-critical workload in the Enterprise and SMB workload in general has been moving to the Public Cloud at a steady trickle over the past few years. While the wholesale embrace of the public cloud to run all workloads is still not very common in our view. We expect Enterprises to continue scrutinizing their data center workloads to identify more non-core and temporary workloads that can be moved to the Public Cloud with a view to harnessing its economics.
On the other hand we have also had several well publicised instances of some Enterprises moving a substantial part of their Data Center footprint to the Cloud. Reasons provided by Enterprise IT organizations to embrace the Public Cloud include lower costs than internal IT and pay-as-you-go economics, costs and flexibility (in the case of the CIA) and in other cases for the elasticity of capacity afforded (Netflix and Zynga) to address the extreme volatility in capacity demand.

The easy availability, ease of use and compelling pay-as-you-go economics of public cloud alternatives such as AWS have empowered the business user within the Enterprise and enabled the business user to pursue IT projects without help from Internal IT. The economics, agility and flexibility offered by such public alternatives have in some organizations led to spectacular results not previously possible and has in essence shifted some IT purchasing power to line of business leaders from Enterprise IT. We believe this is the single biggest reason for the growth of Utility Computing or Public Cloud Infrastructure-as-a-service and platform-as-a-service alternatives such as those available from AWS today.
Most large Cloud and web scale vendors prefer to buy commodity hardware and then leverage open source software to run their infrastructure. Hence, the steady migration of Enterprise workload to the Cloud has resulted in a decline in overall demand for enterprise-focused technology vendors.
While we do not believe that all industry verticals, all workloads and all geographies around the world are going to make a beeline for public cloud alternatives to the detriment of the traditional data center infrastructure vendors, we do believe a slow bleed to the Public Cloud is inevitable.
The SaaS Effect on Cloud Computing More enterprises are now relying on Software delivered as a service (SaaS) to run their processes. Most SaaS applications are delivered by third-party vendors from multi-tenant data centers, which are inherently more efficient than dedicated data centers operated by individual enterprises. While we acknowledge most SaaS vendors prefer to focus on the application layer and buy their underlying infrastructure software and hardware from Enterprise-focused infrastructure vendors. We believe given their inherent multi-tenancy they are in essence more efficient in their use of infrastructure compared to an aggregation of individual Enterprise IT customers. Hence, they are likely to buy a smaller data center footprint to support the same number of applications, processes, users and transactions compared to individual enterprises as an aggregate.