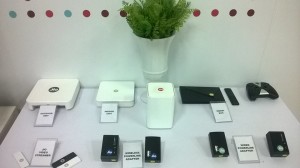 Due to increased demand in urban areas, a majority of the data rollout is happening through Small Cells. Compared to BTS, small cells costs 30% less to Huawei; however, small cells are selling at the same price vs BTS of nearly INR 1.0-1.2mn, including ancillary cost, due to higher demand. Small cells provide one-third of coverage compared to BTS but due to lower space requirements, they suit the urban network rollout.
Reliance Jio's network investment and spectrum holdings provide it significantly higher capacity than existing operators, thereby allowing Jio to reduce data rates/MB to less than 50% of the current market pricing led by Airtel. The company's investments are long term in nature, and not much in the way for short-term profitability. In addition, R JIO's current 100,000 cell sites would be unable to provide pan-India coverage; it needs ~300,000 cell sites to create a 2G equivalent network.

According to Network Gear manufacturer Huawei, spending is lackluster from Vodafone and Idea towards 4G network rollout. As a result, these two companies have the lowest coverage, making them the least prepared for JIO's network launch. Over the past two years, Airtel has been the most aggressive BTS procurer, investing heavily in 4G network rollout. Also, due to the company's reasonable spectrum portfolio size, it can support healthy data traffic. Among incumbents, Airtel remains the only operator, which can compete with RJIO. The quality of fibre backhaul network remains weak across the top three telcos; however, microwave technology advancements could hold 4G traffic, thereby reducing backhaul network's dependency on fibre rollout.
The current consumption of about 1GB/month for a 4G user could increase to nearly 4-5x. On the other hand, if telcos provide stable data speed of even 2mbps (currently 10-15mbps 4G speed on RJIO testing), it is able to run HD videos. Thus, stable coverage, and not more high speed, is needed for a smooth viewing experience.