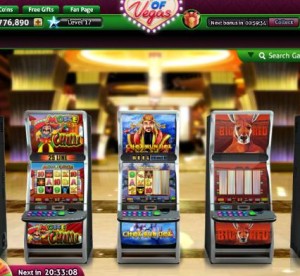 Social games are online games played through social networks, like Facebook, or on mobile phone applications (Apps). Social games are distinct from other video games and are more suited to casual game experiences. The design of the games encourages players to return frequently through various rewards and multi-player features. Revenue is driven by a small percentage of players paying for virtual currency that can be used for various game advantages such as additional game time or new levels.
What makes social casino games different from other forms of gambling in the eyes of regulators is that players never actually receive a payout for any game played. This critical difference allows social games to fall outside current interactive gaming regulation. Less regulation allows game developers to come to market with new games at faster lead times and profitability is not affected by gaming taxes.
The social gaming market is estimated to be US$11.0 billion, including mobile games (ThinkEquity) and is driven by a global gaming population that is approaching 1 billion people (Gartner).

Social casino games reach more than 150 million active users. These recreate popular casino games such as Poker, Bingo, Blackjack and Slot machines games. Slot games have proven to be the most popular of all social casino game types, much like the experience in North American casinos. We estimate that over two-thirds of all revenue in social casinos is derived from slot content. Online gaming attracts a younger player demographic. However, in our analysis of
social casino players, we find a lot of similarities in the age profile of players on social casino apps to the typical 45+ female gamblers on casino floors.
The social casino genre is the highest grossing category on key social gaming platforms such as Facebook and Apple. We estimate ARPU (average revenue per user) for casino games is c.1.5x higher than the overall social gaming average. We believe the strong monetization of social casino games is being driven by its "core gambler" player base.
The social casino revenue model explained
Social casino games are typically free to play. Revenue is generated by a small percentage of players who purchase virtual currency. Virtual currency earns certain in-game advantages. As an example, when playing social casino games this can include additional credits to continue spinning a slot reel, access to different slot games or the ability to play in tournaments where virtual prizes are won based on a players rank against other players. The purchases of virtual currency represent 88% of Zynga's revenue with the remainder of revenue generated by in-game advertising.