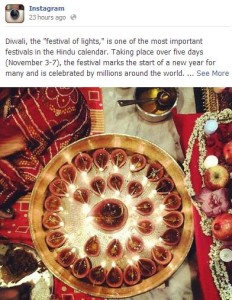 Facebook the World's Largest Web Platform with heavy customer engagement and also the owner of Instagram shared soem insights on how it plans to monetize the exponentially growing platform on Mobile & Web.
Facebook will launch innovative ways of displaying ads on Instagram is a positive largely expected by the market. Further, we believe Zuckebreg's history of successful product management by balancing user experience with advertiser demand in the roll out of in news feed ads on mobile bodes well for Facebook's coming efforts in monetizing its Instagram asset. That said, we would not be surprised if the ramp in ad load and as such monetization for Instagram does not quite match that of Facebook's mobile in feed ad products given Facebook's broader use case and user base. Nonetheless, in our view Facebook management has proven adept at capitalizing on new mobile monetization opportunities while maintaining user engagement.

While there have been concerns about Facebook's engagement among teens, our view is that engagement when coupled with Instagram remains extremely strong. One issue in Facebook reporting on this, however, is that Instagram sign-ups do not require a date of birth, but rather only require an email address, username and password
So what does this mean to Facebook revenues ?
Conservatively, we estimate Instagram could add roughly $240-485mn in ad revenue for Facebook in 2014. This estimates are based on mapping Instagram ARPU to Facebook's mobile-only ARPU for the first five quarters the company showed mobile ads, which with a similar ad load would also imply CPMs similar to those historical periods rather than the stepped up mobile pricing Facebook is currently enjoying. We also assume that 87% of ads will be filled with a standard ad unit while the 13% balance will be filled with a video ad. Similar to our rationale above, this 13% video allocation assumption in 2014 is based on industry estimates which suggest that 13% of total international display advertising spend/budget was allocated to video in 2012Using this method, described in detail below, we estimate Instagram will grow to roughly 240mn MAUs by the end of 2014 from over 150mn at the end of 3Q13.