If you fast-forward not quite two years later and Instagram has become a leading platform both for users and brands. We look at the growth in adoption of Instagram both by users of most demographics as well as, importantly, by brands (and future potential big Instagram advertisers).
Both the number of brands with active accounts (accounts that are used more than once per month) and the number of brands that regularly post photos (a common marketing use case) has increased by more than 50% over the past year. Furthermore, the percentage of global brands with large followings has increased considerably among all segments. Instagram is popular among the younger demographics (at 47%, it has the highest mix of users in the 16-34 age group), and its active user growth.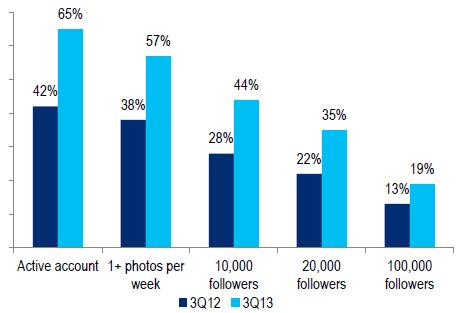 Instagram holds its own in daily and weekly usage, but also shows opportunity to leverage Facebook's expertise in driving engagement. The large and growing base of big brands on Instagram that are leveraging the platform today primarily as a free / earned media channel, paired with popularity and usage growth among an important demographic, represents fertile ground to capture paid media budgets.