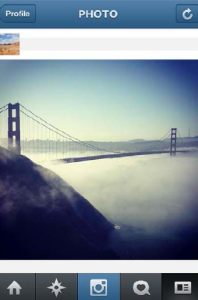 Instagram and WhatsApp's large user base and high engagement levels suggest a large revenue potential for Facebook (FB).
Instagram is a mobile online photo sharing, video-sharing social network service that allows users to take photos and videos and share them on its platform. Given growing use of photo sharing, we see Instagram as a well-positioned as a social and mobile platform play, and a nice compliment to the Facebook audience given a younger demographic profile of the site.
Instagram has exceeded with 300mn MAUs expectations. Site activity is impressive with 70mn photos shared per day and 2.5bn daily likes. Globally, users spend over 20 minutes per day on Instagram, which sets the foundation for material advertising dollars. We see a $4bn+ revenue opportunity and potential valuation range for Instagram at $30bn – $37bn based on user and potential revenue comparisons to Twitter and FB.
Instagram provides a compelling adjunct mobile monetization opportunity for Facebook for the following reasons: 1) it allows FB's ad platforms to reach different users, particularly teens and young adults, and 2) provides greater reach for advertisers as all of Facebook Apps, Instagram, WhatsApp profile consumers in breach of privacy to help target advertising, which should generate a higher revenue per impression (CPMs) for both platforms. Using Facebook's ad ramp as a guide, we estimate Instagram advertising could grow to near $1bn in 2017, and to $4.0 bn by 2020E.


WhatsApp is a cross-platform mobile messaging app which allows users to exchange messages without having to pay for SMS. WhatsApp has over 700mn monthly users and 30 billion messages sent daily. WhatsApp uses emoji for its list of available emoticons. WhatsApp is the largest messenger app with over 700mn users, followed by Facebook Messenger, WeChat, Line and Kakao. While messaging does have low switching costs, we think WhatsApp's leading scale does provide a network effect advantage.
We list few ways Facebook could monetize WhatsApp, and assuming $5 in revenue per user per year (WeChat estimated at close to $4, LINE at $8, and Kakao at $25), WhatsApp could eventually generate $4bn+ a year.
Stickers are pictures (some are animated) that are exchanged by users within chats and are the most common feature in messaging apps. For example, some premium sticker packs are priced $2 per pack and are often mixture of apps own-produced content (content merchandising), content from established producers such as Disney, and smaller providers with content especially to advertise their own app.
Content merchandising: sell merchandise, including toys, games, clothing, etc. Merchandise companies could text out a special daily deal on an item that appeals to a targeted subset of users.
 Commercial Accounts for advertisers and other entities that are given direct access to users. Companies can leverage the relationship with users and provide prizes, news, coupons, etc. Monetization opportunities for messaging companies include: pay to create official accounts, pay for promotion of official account, pay per engagement (contact added), per message exchanged, per content downloaded, and sponsored content.
Payments enables users to connect bank/credit card, pay for purchases within the app. WeChat provides payments services.
Advertising Currently, most apps actually exclude advertising due to the potential negative user experience. However, we think messaging companies could insert one add a day to users given that the average user is seeing over 40 messages a day.
Since WhatsApp's user base is primarily outside of the US, we think that it is reasonable to use messaging apps in other countries as revenue or valuation guide. While Facebook has not turned on monetization for WhatsApp, WeChat is generating an estimated $4 per user per year using a mix of different services listed above (games, stickers, official accounts, payments, and etc). Based on competition data alone, If we assume WhatsApp can generate $5 revenue per user per year through various monetization strategies, Facebook has a $3.5bn annual revenue opportunity on today's users (WeChat is estimated to generate over $1bn this year) and $5bn on estimated future users.