Posted by
Webmaster
on Oct 30, 2016 in
SmartPhones Tablets
|
Comments Off on New Microsoft Surface Studio leading the Bleeding Edge of Innovation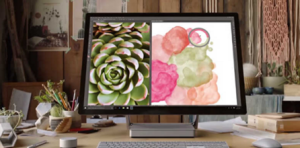 Microsoft demonstrated an improved Surface Book as well as an all in one desktop (Surface Studio) running Windows 10 Creators update. Windows 10 Creators edition update to be released this spring, with the focus across 3 areas – 1) 3D creation for everyone; 2) an improved gamer experience; and 3) easier connection and content sharing. Updates ranged from being able to record a 3D image on a phone and then interacting with and editing it in 3D paint or powerpoint to improvements in game broadcasting and hosting a player created gaming tournament. While these changes were certainly interesting, may not be termed as particularly groundbreaking.
The company announced an all in one desktop version of the Surface which will cost $2,999 and will be available in limited quantities this holiday season. The device certainly has "wow" factor as the company touted an impressive sleek design and presenters demonstrated the ease of use enabled by the Surface Dial, an input device integrated with Windows 10 designed to let you use two hands on the screen. This release returns Microsoft to its Surface roots as the device is reminiscent of the original Surface, which was demonstrated as a coffee table top at the 2008 CES.
While the company provided no successors to the Surface Pro or Surface Book, they did provide a modest refresh to the Surface Book with the new Surface Book i7, a redesigned device meant to provide additional computing and twice the graphics processing power along with improved battery life. The device which starts at $2,399 is available for pre-order now and will ship November.