Posted by
Webmaster
on Oct 26, 2013 in
2G GSM / CDMA
|
Comments Off on OTT Apps Lead to Massive Decline in SMS Usage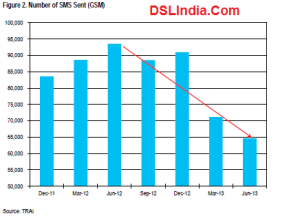 Over-the-Top (OTT) services are web-based (potentially cheaper) ways of communicating that bypass traditional voice & SMS services. TRAI data shows that SMS has already started to feel the impact from online messaging apps such as WhatsApp, and SMS' contribution to industry rev has already declined (3%; Jun13). The expected further reduction, however, should be more than offset by data pickup (~10% of rev for Bharti/Idea), while voice revenue should remain relatively immune.
TRAI data highlights that SMS as % of rev (GSM) has been consistently falling from ~9% in Dec-11 to 3% as of Jun-13 (data comes with a lag). 12 months ending Jun-13 saw a 31% decline in SMS sent and a 250bps drop in SMS' contribution to revenue (GSM). We believe this trend will persist. CDMA, with relatively inferior quality subs, is less exposed to this trend.
OTT services (e.g. WhatsApp) have become popular as smartphone penetration increases (~70m active handsets, ~10% of handset sales). WhatsApp recently disclosed that it has crossed 30m monthly active users in India, implying 5% penetration and ~40% penetration among smartphone users. In addition, its popularity can be gauged from the fact that, as per a Nielsen report, it was the most popular app among subs with smartphones (followed by Facebook).
Impact of similar services on voice (e.g. Viber) is less likely (except international roaming, ~3% of rev) given 1) already low voice tariffs, 2) 3G coverage still not adequate, and 3) increasing 3G utilization (given low spectrum allotment) will start to hurt voice quality on IP network.