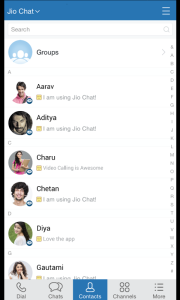 Reliance Jio Infocomm's Jio Chat App which went live 10 days ago and has achieved 100,000 downloads with an average 4.3 Rating from 10,000 users on the Android Platform. The app is also launched for iPhone users as well. The app highlights Jio's intention to eventually become a single platform for users (voice, messaging, entertainment & ecommerce), similar to that of Chinese apps.
Jio chat offers the features of WhatsApp – messaging and calls on data. It includes other features including a channels section, where it has tied with various companies for content (entertainment & ecommerce), and conferencing
facility including video. Jio chat app offers File / Media & Contact sharing. It also offers 100 free SMS/mth (sent on data) which would be useful and applicable in case either sender/recipient's data network at the time of sending the message is unavailable. This is unlike WhatsApp where messages sent through remain in the network in case of data issues and sent / received once data network is available.
WhatsApp Vs Jio chat – VoIP Call Quality
Call quality is good even using 3G and we didn't experience call drop but this mainly a function of network quality and not totally the App. Messaging service interface is similar to WhatsApp. Relative to WhatsApp, the call quality on Jio Chat is definitely better maybe due to both the receiver and caller were in India though using different 3G networks.
One must note that WeChat – the text and voice messaging service of Tencent China – tried to gain user traction in India, including using billboard/TV advertising, but was unable to dislodge WhatsApp, which has ~80m users in India (smartphone owners are ~150m). However, we are disappointed that Jio app lacks localization at all fronts.