Posted by
Webmaster
on Sep 13, 2013 in
SmartPhones Tablets
|
Comments Off

on 7 Inch Tablets and Mid Sized Devices Shipments Rise Sharply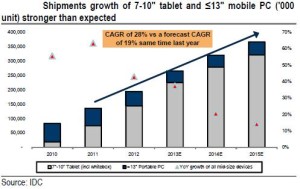 Over the past 12 months, unit shipments for mid-sized devices have been stronger than street's expectations with firms such as IDC now forecasting a 2011-2015 CAGR of 28% for the category (vs. a forecast CAGR of 19% same time last year), a number closer to our last year's forecast for a 30% growth rate. However, almost the entire upside has come about from Android-based 7-8″ tablets with Windows-based devices being significantly below expectations.
A combination of lower price points and better (more…)
Posted by
Webmaster
on Jun 7, 2013 in
Technology
|
Comments Off

on Windows 8 Devices Expensive – Will Microsoft Learn the Android Lesson ?
Today, PCs' value proposition as the internet device has been permanently taken away by smartphones and tablet. Better PC hardware can't help the poor consumer reaction to Windows 8 Operating System either.
Acer and ASUS launched new PC and tablet products at Computex hoping to to drive the replacement demand the PC industry. However, PC used to be the key (in some regions, the only) vehicle for consumers to access the internet, but now smartphone/tablet offer consumers an alternative way to access the internet, and in some cases, with lower cost structure and better user experiences. (more…)