Posted by
Webmaster
on Feb 11, 2014 in
Vodafone
|
Comments Off on Vodafone ARPU at Rs 193, Gets 5 Million Active 3G Customers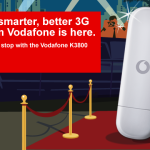 Vodafone India reported a 2.9% QoQ increase in revenues – inline with Bharti India mobile's 2.6% QoQ increase. MoU decline of 1.4% QoQ was lower than that of Bharti India (4% QoQ). Vodafone's in-line result indicates continued improvement in business environment in India particularly with voice RPM hardening and churn reduction. Although data prices corrected sharply this does not signal a price war as price corrections are necessary to evangelise demand
Vodafone India Results Highlights
Subscribers Vodafone's subscriber base grew 3.1% QoQ to 160.4mn during the quarter. Churn declined to 3.8% from 4.6% in 2QFY14.
ARPU ARPUs increased 1% QoQ to 193 as a result of higher RPMs.
MoU Declined 1.4% QoQ, lower than that reported by Airtel (4% QoQ) in contrast to Idea's reported usage increase of 2.2% QoQ. Whilst this may indicate price elasticity, we expect usage to recover as lower discounts get absorbed by the system.
Wireless Data 3G Data revenues grew 4% QoQ due to 17.6% QoQ increase in data traffic. Revenues may have been hurt by discounting. Number of data users increased 38% YoY to 46 million with over 5 million 3G customers.