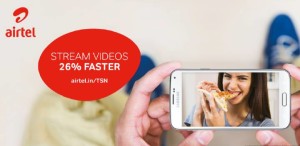 Airtel Mobile Data continues to grow vigorously (67% revenue growth Y/Y) and now contributes over half of the overall Y/Y India wireless revenue growth rate of 10% (5.4% of this 10%). Therefore, data is helping to offset the tepid voice minutes growth pattern. Notably, data ARPU at Rs25 (averaged across the entire customer base) now contributes 13% of the overall ARPU (of Rs202). This percentage is rising, thus helping overall ARPU.
One should note that Airtel India has not increased its 2G network count meaningfully over the last few quarters (up just 4.8% Y/Y in 1QFY15), while adding 3G site does not entail meaningful increase in costs. 3G has a big head and a long-tail, in that 10-15% of 3G sites are heavily congested (peak hours), but majority of the network has low-utilization on average. In the congested CBD areas, it is difficult to get new sites plus interference is an issue. Mgmt. believes it is absolutely vital for the telcos to get more data spectrum.
Airtel changed the definition of data subscriber and now considers subscribers using more than 1MB of data over the previous 30 days as a data subscriber. The 3G subscriber count has also doubled from 6.2 million in 4Q FY14 to 12.5 million. Notably, data is driving strong growth for all operators. Idea and Vodafone also reported solid data revenue growth in 1Q FY15. However, we think that as data gains scale (i.e. becomes more than 20% of total wireless revenues), it might start cannibalizing voice revenues. Data pricing in India remains
attractive.
Airtel Voice Business
Total minutes growth remained at ~5% Y/Y in the Jun- 14 quarter despite a ~10% increase in subscriber base. This might be an initial indication of negative price elasticity kicking in. Notably, in four of the last five quarters, Bharti reported an increase in voice ARPMs, but it was accompanied by a decline in MoU.
Due to moderation in MoU, total minutes growth remained modest for Airtel's India business. Airtel's voice minutes grew just 4.8% Y/Y despite a 9.7% increase in subscriber base. In comparison, Idea reported 12.2% voice minute growth. Airtel's India voice minute growth is consistently on downward trend.