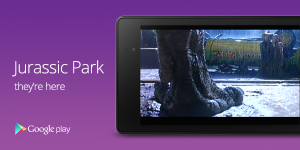 Google Play traction is finally becoming material for Google's financials, driven by: 1) growth in the Android smartphone and tablet installed base, 2) improving Google Play app availability, discovery and monetization, 3) a growing media content library (and more content likely in the future), and 4) improving payments and technology infrastructure. While Android adoption has not contributed much to revenues so far, we expect Google Play gross sales to more than double in 2014 to $9bn, and Google Play to add $1.5bn to Google other revenue line in 2014.
Google Play has an installed base leadership position of over 1.2 Bn Android users and we anticipate over 1bn Android device sales in 2014. Recent data has suggested that Google Play now has over 1 million apps available, on par with the Apple App Store, and that Google app downloads now surpass Apple App Store.
The app market is large, representing over $34bn in global spending in 2014 according to Gartner. We estimate $9bn 2014 in Google Play gross spending ($2.7bn net revenues, up from $1.2bn in 2013), growing to $19bn by 2016 ($5.7bn net revs.). Google gets too little credit for emerging revenue opportunities, and Google Play may now have enough scale to drive positive sentiment going forward. Autos, video ads, and the IoT are other big opportunities.