Posted by
Webmaster
on Feb 28, 2014 in
SmartPhones Tablets
|
Comments Off on HTC Desire 816 + ZTE Grand Memo II SmartPhones at #MWC 2014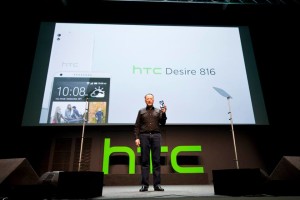 At the MWC, HTC launched its new mid-end device, Desire 816, which features 5.5″ Super LCD screen, 720p video recording, QCOM MSM8228 1.6GHz quad-core AP, dual front-facing speakers, Boom Sound, 2600 mAh battery life, and 5 MP/13 MP camera (both front/rear camera being upgraded). We view these hardware spec attractive, but pricing could be the key swing factor.
HTC M8 High End SmartPhone Features & Review
On 25 March 2014, HTC plans to announce its new flagship model, M8. We expect M8 to be slightly bigger than M7 (4.7″), and to upgrade its camera to something similar with Google's Project Tango (two camera modules to capture the depth information). If M8 is going to support 4K video recording (similar to Samsung GS5 and Sony Xperia Z2), it will require one rear camera to upgrade to 13 MP, which might be a conflict to its promotion of ultrapixel technology at previous version (M7). The continued improvement on better camera functionality should favour Largan (lens) and LOT (camera module). Rest hardware specs should remain unchanged with Al unibody casing and dual front-facing speakers.

ZTE launched one higher-end smartphone, consistent with last year and its peer Huawei (one smartphone and one tablet). The new ZTE Grand Memo II LTE has solid specs, including a 6″ (1280×720) screen smartphone, 2 GB RAM and 16 GB storage, 13 MP/2.2 MP camera, running on Android 4.4 Kitkat. We note that it is based on the quad-core Qualcomm Snapdragon 400 processor, while the Grand Memo last year was based on Snapdragon 800, though this year it supports online 3D gaming and HD video streaming. The device features an ultra-slim design with a 7.2mm frame and a more user-friendly interface, the ZTE MiFavor 2.3, which memorises user habits and can be customised with split screens. Grand Memo II LTE also includes a 3200mAh battery for several days of standby time, 72 hours of music playback and 16 hours of continuous HD video playback.
Comparison of ZTE Grand Memo IILTE, Open C, Open II Vs Huawei MediaPad M1 MediaPad X1

ZTE FireFox SmartPhone Review
ZTE announced two Open series smartphones based on Firefox OS 1.3—Open C and Open II, following last year's success with Open. ZTE Open C is equipped with a 4.0″ HVGA multi-touch screen (800 x 480), a 3 MP camera, 512 MB RAM and 4 GB ROM, 1,400mAh battery, running on 1.2 GHz Qualcomm Snapdragon 200 dual-core processor. The Open C will be initially launched in Venezuela and Uruguay in 2Q14. ZTE Open II is a lower end version of Open C with a 3.5″ HVGA multi-touch screen (480 x 320), a 2 MP camera, 256 MB RAM and 2 GB ROM, 1,150mAh battery, running on 1.2GHz MSM8210 dual-core processor. Firefox OS is an open-source, web-based operating system and ZTE expects to ship more than one million Firefox OS phones this year.