Posted by
Webmaster
on Jul 2, 2013 in
Web 2.0
|
Comments Off

on Amazon's Subscriber & Save Offerings – Traction in Grocery a Surprise

Subscribe & Save has multiple benefits for AMZN, as it increases user purchase frequency and Amazon's share of wallet within the $285bn consumables (ex fresh) market. Subscribe & Save is also a form of behavior modification, as habitual subscription-based ordering has the potential to alter consumers' traditional offline shopping behavior and traffic flow. Not surprisingly, the most penetrated categories so far are Grocery (~4%), Beauty (~1%), and Health & Personal Care (~1%).
Subscribe & Save is essentially Amazon's version of automatic replenishment. It offers users discounted prices on select items (typically sold in bulk) when they choose to have them automatically replenished from Amazon.com at regular, pre-determined intervals (every 1, 2, 3, 4, 5, or 6 months, etc.) (see below). This service (more…)
Posted by
Webmaster
on Jun 24, 2013 in
Web 2.0
|
Comments Off

on How will Amazon Fresh Impact Offline Grocerry Retailers ?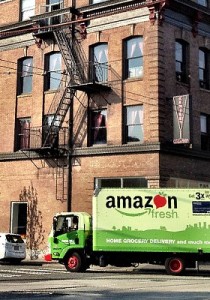 After testing for 6 years in Seattle, Amazon launched AmazonFresh in LA, which is the beginning of Amazon's grocery expansion efforts to potentially all large metro areas in the coming years. The grocery category is a ~$600bn opportunity in the U.S., but Amazon's strategy will likely target the top 20 metro areas (MSAs) by population, which we estimate is a $220bn opportunity.
Some of the Attributes to AmazonFresh that may differentiate it from its competitors and diminish the negative impact of AmazonFresh include – charging fees ($7.99-$9.99 per deliver below $100), Amazon Prime Fresh program (high $299 upfront fee), opportunity to sell non-grocery products that have higher margins, third party marketplace and AmazonFresh may target a higher income customer. (more…)
Posted by
Webmaster
on Jun 7, 2013 in
Web 2.0
|
Comments Off

on Amazon India Launch is to Test Backend Infrastructure only. No Direct Retailing
Amazon launched an Indian Marketplace (www.amazon.in), its 10th country specific site (Amazon previously only operated a comparison shopping site in India (www.junglee.com)). The Indian site will be served exclusively by third-party sellers to comply with local laws and will initially focus on the media category (books and movies), followed by consumer electronics.
Local Laws of India do not permit Foreign Companies to
operate in Multi-Brand Retail and thus Amazon has to be content as a Facilitator of e-commerce for various Indian companies. By doing so Amazon will end up Building Presence, Build Delivery & Distribution Network, Adopt to the Learning Curve of Cash on Delivery [Most Popular in India] so when the Govt of India opens the gates for FDI in e-commerce, Amazon can directly start selling its products and give Indian retailers a run for their money. (more…)