Posted by
Webmaster
on Nov 20, 2014 in
Technology
|
Comments Off

on How can Apple Pay Extend NFC Payment to Other Areas ?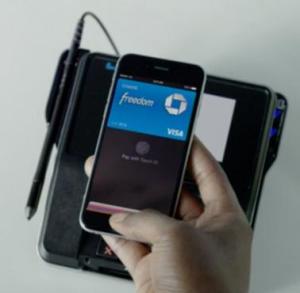 Apple Pay & Passbook have the potential to be very innovative and disruptive to many everyday user experiences. Apple is able to derive the most economics from getting a cut of credit / debit transactions that are enabled through Apple Pay as well as driving incremental revenues through the burgeoning mobile advertising network. As Consumers view fingerprint authentication technology to be more secure than current swipe transactions. Recent credit card security breaches by Target, Home Depot and various banks add focus to this in the minds of consumers. The ecosystem can be extended further with a win – win solution for all as detailed below.
iAds
Integrating Apple Pay with Apple's iAd mobile ad network in the form of a tap-to-buy button embedded in mobile ads. This would allow app publishers that work with iAd to generate more mobile ad revenues from their apps. Apple keeps 30% of the revenues generated from sales (more…)
Posted by
Webmaster
on Jun 3, 2014 in
Technology
|
Comments Off

on How has Apple's Platform Evolved + Matured over Decade ?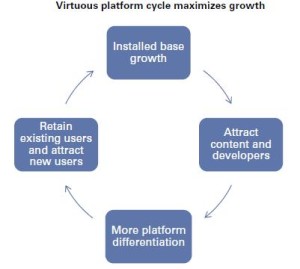 There appears to be a pervasive belief that The Next New Thing from Apple will have to be a hardware device that will change the story just as the iPod, iPhone and iPad did when they were launched, particularly since it is becoming more apparent that Apple's hardware has become less differentiated relative to the competition. After all, the platform (iTunes content, apps, etc.) provides switching costs and without a robust source of switching costs, any new hardware category is unlikely to remain differentiated for long. Just as the iPod was unlikely to remain dominant without the iTunes music store, and the iPhone changed the mobile handset market by leveraging bite-sized apps, any new hardware category needs to leverage and enhance differentiated functionality on Apple's platform.
Furthermore, with streaming music (more…)
Posted by
Webmaster
on Apr 20, 2013 in
SmartPhones Tablets
|
Comments Off

on Apple iOS 7 Launch in June + Innovative iPhone Service Announcements
We are enthusiastic about Apple. Preview of iOS 7 at WWDC in June which could highlight a new killer app such as mobile wallet. A killer app, like mobile payments, could serve as a demand catalyst similar to Siri driving iPhone 4S sales
We expect Apple to preview new versions of iOS and OS X at the user conference in June. The next iPhone is likely to keep the same hardware form factor as the current iPhone 5 based on Apple's historical iPhone cycles. Therefore, software and services will determine the success of iPhone 5S, in our view.
Innovative Services on iOS Platform
Eddy Cue, Apple's head of Internet Software and Services, is working hard to (more…)