Posted by
Webmaster
on Mar 29, 2013 in
SmartPhones Tablets
|
Comments Off

on MarketShare of SmartPhone Mobile Handsets in China
The China smartphone market is price driven (sub-Rmb1000 or US$150); consensus believes aggressive pricing will continue in 2013. We think the market will remain fragmented, but selective brands in China could benefit in 2013 through enlarged scale. We think share gains at Lenovo and ZTE could help the companies defend margins at the operating level better than peers.
The following Chart Shows MarketShare of SmartPhone Mobile Handsets in China between 2009 and 2013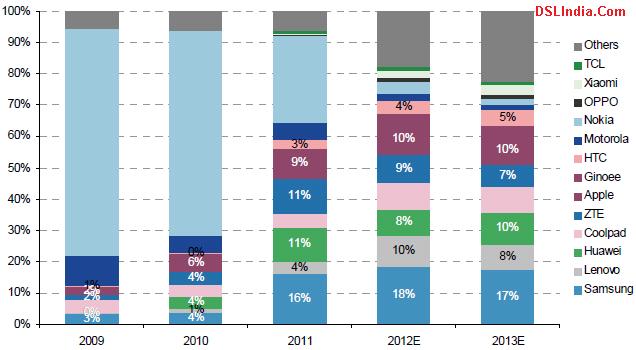 The marketshare dynamics will change substantially if Apple rolls out a low-priced iPhone to expand share in China, putting greater-than-expected pressure on margins.
Posted by
Webmaster
on Feb 22, 2013 in
SmartPhones Tablets
|
Comments Off

on Most Sought After / Popular SmartPhones in China
The iPhone remained the favorite mobile phone brand among users, with a 21.2% "attention rate" (the percentage of search queries for a certain brand across all mobile phone-related search queries), up 1.2pp QoQ. Samsung (15.8%, up 0.2pp) overtook Nokia (14.6%, down 1.8pp) to become the second most searched-for mobile phone brand among Chinese users. Although overseas brands continued to fill the 3 most favored mobile phone brands, there were five Chinese domestic brands which managed to enter the top 10, including Xiaomi (8.5%, up 2.1pp), Lenovo (4.7%, up 0.9pp), Huawei (3.2%, up 0.3pp), ZTE (2.7%, up 0.1pp) and Meizu (2.3%, up 0.7pp).
In terms of the most popular mobile phone models, Apple took all top 3 positions with its iPhone4S (representing an 8.4% attention rate), iPhone5 (7.6%) and (more…)