Posted by
Webmaster
on Aug 11, 2013 in
SmartPhones Tablets
|
Comments Off

on How Mediatek enhanced SmartPhone & Tablet Processors Optimally ?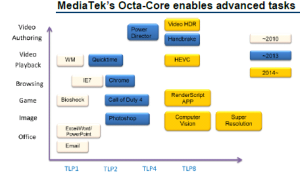 MediaTek, the fabless Semiconductor innovator has accelerated its development cycle relative to feature phones to remain competitive with global competitors Qualcomm, Broadcom and Marvell and stay ahead of emerging Chinese competitors RDA and Spreadtrum. They are launching chipsets through 2013 and 2014 for entry, mainstream, premium and tablet segments for emerging markets to offer a broad product line spanning sub-US$50 smartphones to more advanced US$200-300 tier-one like smartphones.
Lower Cost Chipsets for SmartPhones
MediaTek launched 2nd generation dual- (MT6572/MT6572M) and quad-core chipsets (6589M/6582M) in late 2Q13 to optimise cost structure of its mainstream products. The new products (more…)
Posted by
Webmaster
on May 7, 2013 in
SmartPhones Tablets
|
Comments Off

on Mediatek Expanding in low-priced tablet market
The global tablet market is accelerating as low cost tablets are rapidly improving in functionality in the $40-200 price range, below tier 1 tablets. Initial demand is led by Chinese makers exporting to emerging markets with low PC penetration, with usage
mainly for entertainment (games, movies and music) but starting to offer productivity as keyboard attachments and Android apps proliferate.
Tablet chipset, component suppliers, and design houses believe published shipment estimates last year at 50 mn units may have been understatements and also believe this year builds may approach 120 mn units. The overall tablet market would have 120 mn
Apple/Samsung + 120 mn China tier 2/whitebox + 70 mn other foreign brands, about 310 mn units versus PC industry volumes in the 300-350 mn range. (more…)