Posted by
Webmaster
on Mar 18, 2014 in
SmartPhones Tablets
|
Comments Off on What is an OTT Service – WatsApp, Line, Viber etc ? How it Works ?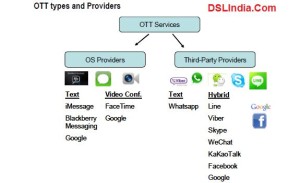 We've received e-mails asking to explain OTT Apps in the context of Telecommunication Services. In a series of post we attempt to explain OTT Apps & Services.
Over the Top Service (OTT) is the general term for an application / service or content delivered over an independent Internet based medium. OTT operators are typically independent by nature from the telco and because of the various platforms offered by smartphone operating systems, they are able to replicate and replace traditional telco services such as voice and messaging and deliver the services over the traditional telco pipes (pay TV for example) without any affiliation to a specific telco operator.
OTT communications services allow users to bypass the traditional cash cow voice and SMS services offered by telecom operators and communicate directly with other OTT users using the internet made available by Wi-Fi or 3G or 4G. OTT communications can be simplistically categorized into two major categories
OTT services provided by/embedded into the handsets by operating systems (such as iMessage and Facetime by Apple iOS and Blackberry Messaging Service by Research in Motion)


Third-party communications services (for example Whatsapp, Kakao Talk, Line, WeChat, Tango, Skype, Viber, Facebook, Google Hangouts). For the OS providers, text messaging and video conferencing are the two main services provided. Third party providers generally provide hybrid communication services which include text messaging coupled with voice and/or video-conferencing functions. Some of these third party OTTs are backed by well known global brands such as Google (Google+, Hangouts), Microsoft (Skype) and Facebook (Facebook Messenger)
OTT services extend beyond just communication services. Pay TV for example has evolved with IP-based delivery platforms such as Netflix, Hulu or even Apple's Apple TV. These serve to compete with traditional vertically integrated models such as cable TV.
The Revenue model with OTT
Revenue from sales of credits for communication services (Skype's cloud-based call credits which allows for outbound calls to any traditional fixed/wireless lines and not just to Skype users). Revenue from micro payments within value-added services such as sales of special emoticons / stickers or games (Line, WeChat, Kakao Talk)
OTT which serves to steal revenues from the telcos by allowing subscribers an alternative and typically far cheaper means to facilitate service by piggybacking on the data networks Wired / Wireless of Telcos.