Posted by
Webmaster
on Jun 13, 2014 in
Web 2.0
|
Comments Off on YouTube Tops 20 Bn Video Views in May – Heads for $4.5 Bn Ad Revenue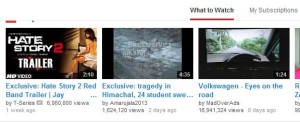 Google's Online Video Streaming Service YouTube doesn't disclose any figures about Monthly Views. However, estimates from VidStatsX reveal that worldwide video views on YouTube in May 2014 was 20.8bn, Year-over-year growth in video views is ~100%. The total number of videos available on YouTube was 3.5mn at the end of May, this has been relatively stable year-to-date. The total number of YouTube subscriptions to Top 1000 publishers was 1.4bn at the end of May and like videos has been relatively stable YTD.
It is a bit difficult to estimate with confidence the correlation between the datapoints we track and Google's actual financial results. That said, we do believe that the y/y growth in total video views, in particular, likely represents the minimal growth in YouTube's overall revenue, as we believe other key variables like CPM and ad load likely act as positive contributors to this volume based datapoint.
With this background and extrapolating the limited data we notice that Google is expected to report YouTube Revenues topping $4.5 Bn in 2014 up from $3.6 Bn a year ago. With the burgeoning Mobile Data services across the World, we can safely expect YouTube's exponential growth to continue and bring in adverting Dollars to Google.