Posted by
Webmaster
on Sep 24, 2014 in
2G GSM / CDMA
|
Comments Off on 800Mn Active Mobile Subscribers, 85%+ on GSM Network
The GSM active subscriber base (excluding RCom & Tata GSM subs) has increased 5.9% from 603 mn in Dec-13 to 639 mn in Jul-14. India's total active subscriber base (GSM & CDMA) has expanded from 762 mn subscribers to 797 mn in this period. We expect subscriber addition to moderate in the medium-to-longer term due to two reasons: 1) Indian telcos' focus on "profitable" subs, and 2) incremental sub additions primarily accrue from rural areas, where growth will likely be slower.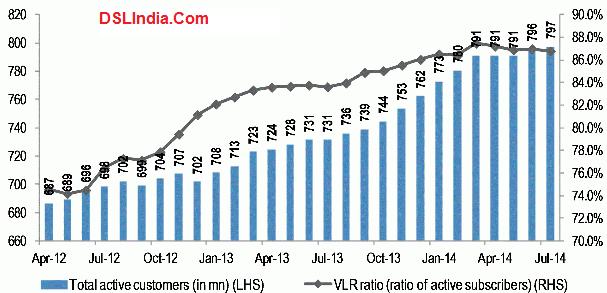 The GSM subscriber base increased by 5.5 mn subscribers, according to data released by COAI. Subscriber count has increased 4+ mn in each of the last 12 quarters, which is quite healthy. The last 12 months' GSM net addition is 75.6 million subscribers.
Interestingly, Airtel, Idea Cellular and Vodafone, the large three GSM operators (or "The Big-3"), accounted for about 67% of total net adds last month, which is slightly below their combined GSM subscriber market share of 70%. These operators accounted for less than 70% incremental subscribers in 8 of the last 10 months, which suggests that these three combined are not gaining GSM subscriber market share at the same pace as before. Data suggests that the smaller players (such as Aircel, Uninor) are making some inroads into sub adds (albeit still modest).
Idea continues to shine by consistently gaining subscriber market share; it has the highest subscriber add count in Aug-14. Airtel seems more focused on raising ARPMs within its existing sub base rather than go all out to bag new subs and expand volume market share. Vodafone added 1.2 million subscribers in Aug-14, about 22% of total net adds in the month, which is broadly in line with its current subscriber market share among GSM players.