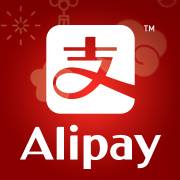 Online payment is the basic infrastructure of internet finance. In China, online payment is essential for the development of the e-commerce market, as consumers need to complete the entire purchase process through online third-party payment services.
Launched in 2004, Alipay is now the largest third-party payment service provider in China, taking a 47.6% market share in the third-party payment market of China in 3Q15, according to iResearch. In April 2015, Alipay disclosed monthly active users (MAU) at 270 mn, from 190 mn in Oct 2014, with an average of 45 mn daily transactions. We estimate that Alipay has around 500 mn annual active users.
Alipay has established partnerships with financial institutions including leading national and regional banks across China as well as the global payment networks, Visa and MasterCard, to facilitate payments in China and abroad. Offline payment is another key area of development for Alipay. Via smartphones, Alipay can offer convenient offline payment services. The additional offline payment scenarios help build users' engagement and potentially offer more O2O services to end-users.
Tenpay is the second-largest player in the online payment market, with a 20% market share. Due to its lack of a strong e-commerce business historically, Tenpay's business has mainly focused on Tencent's various entertainment-related services (games, red packets, etc), and newly acquired O2O services, such as taxi-hailing, restaurants, among others. Tencent's aggressive Red Packet campaign during the Spring Festival contributed a lot to the rapid growth of Tenpay and WeChat payment.
WeChat Payment uses Tenpay for its back-end payment infrastructure. It has launched various personal financial services, such as AA payment, lottery, mobile phone recharges, utility fee payment, movie ticketing, O2O services, among others. According to Tencent, Tencent's mobile payment has more than 400 mn users. In future, Tenpay may launch more new functions through WeChat.
Baidu launched Baifubao in 2008, as its online payment tool, and later with Baidu Wallet, the mobile version. But so far, Baidu Wallet lags far behind Alibaba and Tencent. By the end of September 2015, Baidu Wallet had 45 mn activated accounts. In 2015, Baidu spent more than Rmb1 bn on its Red Packet to further increase the penetration of Baidu Wallet.
In 2015, both Alipay and Tenpay have been more aggressive in promoting their payments in offline malls or retailers. Besides its e-commerce business, Alipay is also available in Walmart, Carrefour, KFC, and other offline retailers. We
believe the promotion campaign will continue in 2016 and the competition will intensify with Baidu's likely entry.