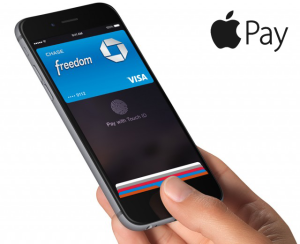 Non innovators in the Business are giving Apple run for its money in Mobile Payment by Lobbying. Apple Pay's impact on the payments world in the US and internationally has been felt in the Silicon valley where PayPal was separated from Ebay and in Emerging Markets where are we likely to see m-Pesa -like disruptions.
Apple's mobile wallet Apple Pay is one of the 200+ digital wallets in the market. Most mobile wallets ventures have been unsuccessful because consumers and merchants are conservative in payment behavior. Apple Pay is likely to more successful than rival digital wallets as it (1) has a critical mass of partners across the payment value chain, including card networks, issuers, processors and merchants, (2) critical mass of US smart phone market (c40%), and (3) they should be able to ensure a low friction user experience. Apple Pay will work on existing payment rails and working with existing payments system players and has embraced current open NFC (Near Field Communication) and tokenization standards.
The strategy of the independent PayPal is to become a full-spectrum payment network including its current e-commerce, mobile commerce and expansion to payments at physical point of sale. The challenge in achieving the latter is the lack of compelling reason for conservative consumers to change payment behaviour at the Point of Sale.


Card transactions remain very profitable for US retail banks, especially relative to other developed markets. Large US banks on average charge up to 220bps of interchange fees and thus a relatively small part of these economics will be shared with Apple. For the US banks, especially the larger ones planning their own digital wallets, participating in Apple Pay may be seen as a hedge. In Europe, interchange fees are much smaller: at 80bps for UK and 30bps in France, it will be harder for Apple Pay to get the same level of fees as in the US.
Innovations in Payment by Banking System
Innovations will be more disruptive in emerging market than developed market. In the developed world, the banks are often leading the innovations in the payment space, especially in Europe. For example, In Sweden, Swish- a mobile P2P payment service is developed by a group of Nordic banks. In contrast, in emerging markets, where banking penetration is lower than mobile penetration, there is more opportunity for payment innovations to be more disruptive and replace banks in the financial system. Nevertheless, these payments innovation such as m-Pesa in Africa or the new RuPay in India and bKash in Bangladesh are likely to be regional / country initiatives rather than global trends.