Posted by
Webmaster
on Jun 26, 2014 in
SmartPhones Tablets
|
Comments Off on BlackBerry Messenger Continued Falloff in Services & Users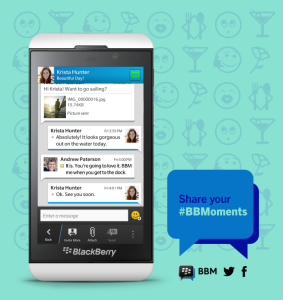 BlackBerry device units of 1.6M, up 25% q/q and down 76% y/y missed our arguably optimistic 2.52M est based on Z3 sell-in for Devices rev of $377M.
BlackBerry Messenger – BBM
Management expects another stair step once BBM comes loaded on Nokia Lumias and guided to $100M in BBM related revenue for FY16, from enterprise sales, ads, and some consumer upsell. We believe this is a lofty target as the company struggles to find a sustainable and profitable business model going forward, especially as it likely relies on enterprise users that now total just 10M. On the consumer side, we continue to believe Blackberry likely has a difficult time monetizing its ~85M BBM monthly active user (MAU) total sub base that barely budget q/q and are little changed from the 80M in December
Note that while ~30M additional people downloaded and installed the BBM app this quarter, for a total of 160M BBM apps registered to date since the company made the app available cross-platform, the number of actual active users hasn't budged from 85M implying that either none of the new downloads end up using the service, or just as many existing users churned off of BBM as new ones who added this quarter, not a very encouraging sign for a business that is reliant on the network effect to grow
We believe that the crux of the company's return to profitability once again relies on a successful Devices strategy to get volumes up to 10M / year where Blackberry's other segments could show some profitability—even if a significant portion comes from a declining Services business that has its own issues to contend with. Thus, for all of management's efforts to improve operational efficiency, unwind supply and royalty agreements previously based on substantially higher volume assumptions Blackberry and refocus the company on enterprise software, Blackberry's fate still remains heavily tied to hardware.