Posted by
Webmaster
on Jul 1, 2013 in
Android
|
Comments Off

on Sale of eBooks Growth Declining on Amazon
As the e-book industry matures and users amass progressively larger content libraries, generating incremental e-book sales may become increasingly difficult. When the Amazon Kindle was introduced in 2007 and customers began building digital content libraries, the product had a relatively high attach rate, in our view. Now that the Kindle has been in the market for over 5 years, we believe the attach rate has declined. This is especially true as a larger proportion of Kindle sales are "upgrade-sales", in which case, the customer already owns an existing content library. Data from BookStats shows that e-book revenue has decelerated every year for the past 4 years.
According to The Digital Reader, 76% of public (more…)
Posted by
Webmaster
on May 29, 2013 in
Android
|
Comments Off

on Will Google Launch High End Android SmartPhone using Motorola Mobility ?
Purchasing Motorola in May 2012 for $9.5bn ex-cash was confusing to many of us. Since then, Google has rationalized the business (sale of Motorola Home, divestiture of manufacturing operations and layoffs) and the net cost after asset sales and tax benefits has declined to an estimated $6-7bn.
Given Google's timeframe for Motorola's hardware product cycle revamp (12-18 months), it is reasonable to expect Google to launch its own high end Smartphones and tablets in Q4-2013, in time for the holidays. If Google can generate the same interest in its Motorola hardware products as it has for recent Nexus products, the product launches could be a catalyst. (more…)
Posted by
Webmaster
on May 20, 2013 in
Android
|
Comments Off

on What is the MicroPhone HDR MEMS Issue with HTC One / SmartPhones ?
What is the HDR Function ?
The HDR function shields out the background noise for example during recording of concerts. Currently, only iPhone 5 and HTC One have got this function. However, HTC has been recently caught in a sensitive supply issue of microphone for HTC One when a Dutch court, after an appeal from Nokia, ordered STMicro to stop supplying HDR MEMS for HTC One.
It is unlikely that HTC would require regulatory approval to change the microphone component, in our view. Some large operators will need to do acoustic testing and thus may take some lead time.
Posted by
Webmaster
on May 16, 2013 in
Android
|
Comments Off

on LG Nexus 4 – Best Android SmartPhone to Buy in India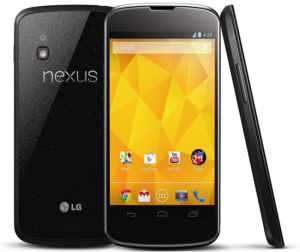 LG and Google, together worked on Developing Nexus 4 smartphone in the Nexus line-up from Google, will be available in India from today. Why is LG Google Nexus 4 Android SmartPhone the Best you can Buy in India ? From my first hand experience of using Android based Samsung and Google Nexus Tablet [Collaboration with ASUS], I have always felt Google backed Hardware in collaboration is the best for user experience. You also gets the Latest Android Update as and when released and thus all the new and exciting features without you having to wait for a particular vendor like Samsung to will push the update separately. [Samsung normally uses forked version of Android]
LG Nexus 4 is bound to transform and elevate a consumer's smartphone experience. LG's Nexus 4 is priced at Rs 25, 999 and will be available at selected LG exclusive brand shops, Multi brand outlets and speciality stores (more…)
Posted by
Webmaster
on Apr 23, 2013 in
Android
|
Comments Off

on Salora launches android calling tablet 'Fontab' at Rs 6,899
Salora International (SIL) has added another dimension to its product portfolio with launch of its android calling tablet 'Fontab' at Rs 6,899, its third in the tablet series. The tablet sports a 17.7-cm (7-inch) display and runs Android 4.1 aka Jelly Bean version out-of-box. The slate is powered by a 1.5 GHz processor, coupled with 1 GB RAM.
The tablet comes fitted with a 2 MP rear camera and 0.3 MP front-facing camera. In terms of connectivity, the slate supports Bluetooth, Wi-Fi, HDMI, 2G (via SIM) and 3G (via external dongle). The tablet gets 4 GB internal storage capacity, which is expandable up to 32 GB via microSD and the company has loaded Fontab with a 3,500 mAh battery.
Salora International has emerged as a diversified entity with interests in sourcing and procurement, manufacturing, supply chain management, distribution, marketing, retail and after-sales service.
Posted by
Webmaster
on Mar 24, 2013 in
Android
|
Comments Off

on Samsung Galaxy S 4 IV Vs Galaxy S 3
The following Chart shows the comparison of Samsung Galaxy S 4 with Samsung Galaxy S 3 on the following features – Network Dimensions, Features, Display, Memory, Battery, Data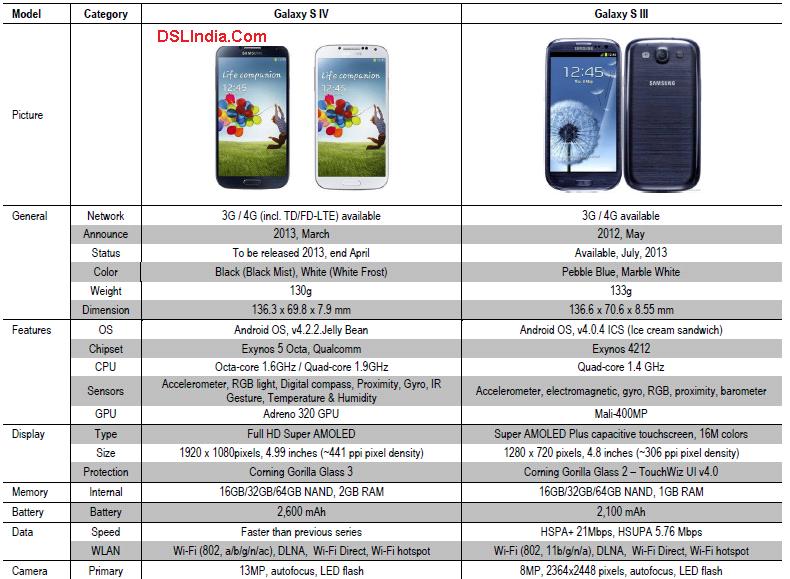 Register Your Samsung Galaxy Complaints on Samsung's official complaint box in India.