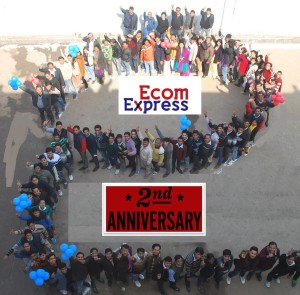 ECom Express is a logistics company catering to the needs of e-commerce industry, which is growing at a fast pace in India. The company was launched in early 2013 focused on providing the last mile delivery services to the eCommerce companies. ECom Express started with 311 employees in 35 cities. It has grown to 653 delivery centers in 180 cities with 15,000 employees and 450,000 Shipments/day. 90% of the staff are delivery people.
Logistics is a relatively large part of cost for eCommerce players and they intend to rationalize it. However, ECom Express believe that the quality of services in terms of timely delivery, reliability and lower product returns are key factors for eCommerce player to select a logistics company and not necessarily pricing. ECom Express is confident that given the quality of its services and its ability to delivery products to even less-accessible areas places it well in the market. The company also provides value-added services such as collection of cash on delivery. Hence, the company does not see meaningful pressure on realizations.
The benign funding environment has accelerated eCommerce adoption in India. Irrespective of which eCommerce player wins, logistics players are well positioned for growth. ECom Express focuses solely on eCommerce logistics only. Air and train transportation capacity is relatively constrained in India and is unable to meet demand in high-demand periods such as festive season. Hence, ECom Express has built its own road transport capabilities. This will likely ensure timely delivery to customer – a critical factor in eCommerce. The company plans to build its own fulfilment centers as well.
ECom Express leases vehicles for transportation. 80% of its load travels on its own network now. The rationale behind building own network is:(a) there is reliability about the time of delivery. Time of delivery is critical in this business. Air and train capacity is rather constrained in India; hence, building on road network helps to ensure timely delivery. (b) The company can do it quite efficiently because of the volumes it carries.


ECom Express has 10-12% market share in eCommerce logistics. ECom Express picks up packages from 8000-9000 vendors daily. Delhi, Mumbai, Surat and Panipat account for a large proportion of pick-ups. Larger customers for eCommerce logistics players are: Snapdeal, Flipkart, Amazon, Shopclues, Paytm, StarCJ.com, Home Shop 18, Napptol, Myntra.com, Jabong, Aditya Birla, Future group and Xiaomi etc.
Delhivery and Gojavas are the other major dedicated third party logistics players in the market. The size of all three (including ECom Express) is broadly similar. The major captives are EKart for Flipkart and ATS for Amazon. Snapdeal has purchased a stake in Gojavas. Courier companies had 35-40% market share in eCommerce logistics previously that has come down to 12-13%.
Total eCommerce market is USD6 billion, while logistics market is ~USD600 million. Approximate market share of eCommerce players in India – Flipkart (40%), Snapdeal (20%), Amazon (27%) and others (23%).