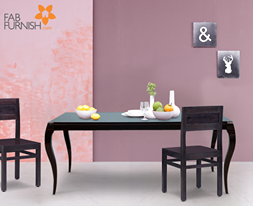 FabFurnish is the first Large Scale online Furniture & Home Decor retailer in India. The overall furniture market in India is over US$20bn and growing 15-20% p.a. as per FabFurnish. More than 95% of the market is unorganized, and within organized market, large retailers are limited and have presence mostly in top 10 cities. Given high rental costs, prices in offline stores (for large retailers) are also very high, creating opportunity for the online model to disrupt existing traditional distribution channels.
Online & Offline Business Model
FabFurnish follwos a hybrid Online & Offline Model known as Omni Channel Retailing.. It has 4 offline showrooms (mostly in tier 1 cities) through franchisees. This is primarily meant to draw attention and get more visitors and convert them into customers. Over time this could increase as its builds presence in top 10-15 cities.
The key categories where it has a presence are Furniture (50%+) and other categories like kitchen & dining, bed & bath, home décor. Over longer term, Furniture could account for 70% of total merchandise value. Within furniture, solid wood accounts for 30-35%, MDF accounts for 30-35%, while balance consists of Sofas.
FabFurnish Operational Metrics
As per company, it is the leader in online category for Furniture with a monthly GMV of Euro2.4m. This is growing by 3x every year. The total traffic on its platform is 150k daily visitors, and it gets on average 1,500 orders per day. The average ticket size is Rs3,500-4,500. The top 5 cities account for 50% of business, while top 10 cities account for 60% of business. Currently 30% of payments are taken in advance and 70% is cash on delivery .80% of furniture sold is private-label. For non-furniture, private labels account for 50%.
Gross margins are ~40%. Over time it can scale up to 45%-50%. Spend on marketing is 15%. Logistics costs are 12-15% but could come down to 8-9% as company moves to build its own delivery mechanism. Company has total storage space of 250k and 3 warehouses.
Competition for FabFurnish
FabFurnish could face competition from general merchandise players: However, key differentiators remain a) Assortment, b) Pricing, c) Service levels. It sources from multiple countries which increases its assortment and reduces the cost. Differences in operations, assortment, pricing and service levels would be key differentiators for FabFurnish. For example, logistics operations are very different for general merchandising companies than for categories like furniture. eCommerce goods are largely shipped by air (90-95% as per Ecom Express), but furniture has to be largely shipped via surface, thereby limiting synergies with existing delivery operations of general merchandising companies.