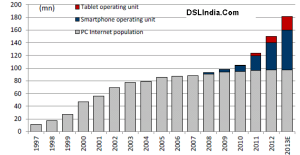 The Electronics and Gadget Savvy Japan witnessed from the second half of the 1990s through the first half of the 2000s where most people used PCs to go online. Growth in Internet use today, however, is being driven by rapid proliferation of smartphones. The number of people going online via PCs in Japan broadly plateaued in 2012 at around 97mn. In contrast, smartphone penetration at end-FY12 was only 33% so Japan is still in the midst of smartphone proliferation. The Chart on the left shows a Decade of Growth of PC Vs SmartPhone vs Tablets used to go Online.
The number of Internet-capable devices in Japan has risen by 50% compared with five years ago. However, because people use several devices, time online and usage value has not also simply risen by 50%. That said, at the very least, the number of hours spent using the Internet has increased.
Time Spent Online
In 2005, the average time spent online was 13 minutes on weekdays and 20 minutes on Sundays. In 2010, the respective figures had increased to 23 and 31 minutes. Source: NHK surveys. Next Survey is due in 2015.
E-commerce accounts for 7% and 10%, respectively, of total retail sales in the US and UK, versus a still-low 3% in Japan, and we therefore see considerable upside potential. We believe the main reason for Japan's low e-commerce ratio is the convenience and price competitiveness of its bricks-and-mortar retailers, including convenience stores and major electrical goods retailers. However, we think that the e-commerce ratio will rise, centered on low-priced and non-urgent goods, and so see considerable upside potential for the market in Japan.