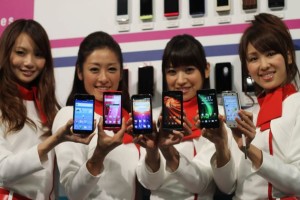 38 leading companies in the Japanese Internet (including games) and IT services sector have climbed 71% by end-September 2013. We think the rise in valuations is in large part a reflection of the higher rate of profit growth forecast for FY13.
The Order of preference among subsectors has been e-commerce > IT services > advertising > digital content (games). It is the reflection of the improving macro environment and increasingly swift uptake for smartphones and tablets. Among users of the Internet—including smartphone users—appetite for online shopping is voracious. Advances in advertising technology have contributed to a rise in long-tail advertisers and media providers.
In the e-commerce, Internet usage continues to outperform household consumption because of what we see as irreversible structural issues. Amid increasing uptake of smartphones and tablets, it seems highly probable that the number of devices connected to the internet will keep rising, such that growth in online shopping continues, and gains momentum. Supply-chain optimization and greater price competition seem set to make e-commerce more userfriendly and accelerate market growth.

In the Online Advertising Space, Rich ads, including smartphone ads and video, have begun to catch on, and major media firms are leading the way. Progress with advertising technology has begun to expand the horizons for synergies between advertisers and media, allowing advertising even with modest budgets, and making it easier for media to monetize network participation.
In the Digital Content space, there has been a sharp rise for native apps in social gaming. At this point it is unlikely to strip users away from the conventional consumer and browser gaming markets, but at ¥13,000/year the online population's per capita spending is the world's highest and upside for the overall market will be difficult. One risk is that profitability could weaken as content becomes more demanding technologically.