Posted by
Webmaster
on Mar 5, 2017 in
Reliance Jio Infocomm
|
Comments Off on How Reliance Jio became World's Largest 4G LTE Mobile Broadband Carrier ?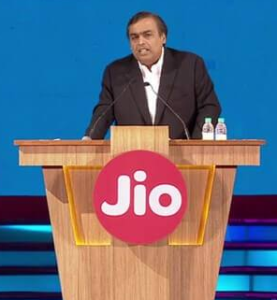 Reliance Jio started by offering free services as it wanted to test its network capacity. Jio also wanted to eliminate the fear of using data created by Airtel, Vodafone and Idea amongst Indian consumers, who were not using data due to high costs.
How Jio Built Network Capacity for 4G LTE all IP Network ?
Team Jio explained that one needs to keep in mind that it is not just spectrum multiplied by towers. Capacity is also about SINR (Signal to interference and noise ratio) multiplied by backhaul. Jio has 60% optical fibre backhaul Vs mere OFC backhaul 20% for Airtel and others. It also has 3-4 years head start on fibre, since it is difficult and expensive to lay fibre. Interference is controlled by single sector cells, signal ensured device support, and real time analytics. Even after matching plans, competition is yet to see a massive increase in consumption, owing to poor SINR. Jio already has a real-time automated network tuning and depends less on conventional drive tests. In six months, Jio will be able to completely move to SON (self-organising network), which will enable it to redistribute capacity in real time and thus, increase throughput.


Jio Traffic Carried Vs Capacity to be a World Record Holder
Jio's 4G LTE broadband data traffic is currently 1 billion GB/month, which is 5x that of the rest of industry. This compares to 180m/470m/630m/710m GB per month for Korea/Japan/China/US. JIO does 3.7m simultaneous video streams daily compared with 1.7m during the recent Super Bowl in the US on Verizon's network. Jio has capacity of 4bn GB per month of 4G LTE Broadband and 14bn voice minutes (daily), including capacity augmentation from macro cells and small cells but not Wi-Fi). Hence, the network is at 25% capacity utilisation currently. It will have a large number of small cells that cost only 10% of macro cells.
Mr Manoj Modi most trusted lieutenant of Mukesh Ambani and an executive without any designation at the Reliance Group said that Incumbent competitors have more spectrum and BTSs, they do not have the matching fibre (where JIO has head start of 3-4 years) and they lack Jio's experience in optimising LTE network for interference. Unlike voice which is demand constrained (inelastic demand), data is supply constrained. Data has very elastic demand and will grow as price reduces (budget constrained). With lower prices, Jio expects consumers to spend more and achieve more milestones globally.