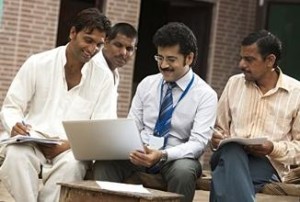 Reliance Jio Infocomm's installation of ~70,000 LTE sites for the launch network is mostly completed. With the recently-acquired spectrum, the company has a decent mix of 1800/800 MHz spectrum for voice coverage (with 2300MHz for data capacity). In addition to 2300MHz and 1800MHz, RJio acquired 800MHz spectrum in nine circles in the Mar-15 auctions, most of which can be used for LTE (CA). Thus, including RJio's last year's bidding, RJio now has either 1800MHz or 800MHz spectrum in 20 circles, which account for 92% of industry revenues —this is in addition to the 2300MHz spectrum bought in all circles in 2010.
Why we Rate Reliance Jio Infocomm as Second Largest Telecom Network ?
Network capacity is a function of variables: (1) amount of spectrum and (2) number of base stations (3)OFC network. We define a simple measure of network capacity as the number of sites multiplied by the spectrum available for each site. This makes it the 3rd Largest Wireless Service Provider. Reliance Jio has completed roll-out of ~100,000 Rkm of optic fibre cable, and the roll-out continues at a fast clip. This is already comparable with the fibre rolled out by the rest of the industry over the last 10-15 years. What is important, however, is that more than 85% of RJio's fibre is intra-city fibre (access fibre running up to the towers as of now). Till now, RCOM was believed to have the largest fibre network among private operators, with an intra-city network of ~70,000 Rkm. Thus, it is possible that Reliance Jio already has the largest intra-city fibre network in the industry (excluding fibre leased from RCOM here!).
Reliance Jio has already built 28,000-30,000 towers of its own (mix of poles and full ground based towers). This is a much larger own tower base than what we had earlier anticipated. Reliance Jio's 4G deployment will also benefit from superior technology efficiency as compared with 2G/3G networks of other operators. Spectral efficiency refers to the amount of data throughput (in bits per second) that a technology can push through a given MHz of spectrum. We conservatively assume that 3G is 1.25x better than 2G on spectral efficiency, and LTE is 1.25x better than 3G.
With comments from Ceragon recently that they have mostly completed deliveries of 20,000 microwave backhaul units to RJio, support our view that the network installation is nearly completed for RJio.