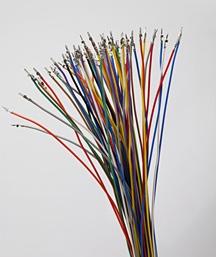 Industry Channel Checks are indicating that Reliance Jio Infocomm has quietly rolled out ~100,000 Rkm (route kilometer) of optic fibre cable, and the rollout continues at a fast clip. This is already comparable with fibre rolled out by the rest of the industry. Sources Indicate Reliance Jio already has the largest intra-city optic fibre network with 85,000+ km across 700-800 towns. This is a major differentiator for mobile backhaul in an industry with sub 10% fiber penetration into towers. Till date, Airtel Vodafone and Idea Cellular have used 12-24 fibre threads, while RJio is using mostly cables with 288 fibres (in some cases 96 fibres).
What if Reliance Communications & Reliance Jio OFC Networks Complement Each Other ?
Till now, RCom was believed to have the largest fibre network among private operators, with an intra-city network of ~70,000 Rkm [Once again laid under the direct project Management by Mukesh Ambani in 2000-01]. Thus, it is possible that Reliance Jio already has the largest intra-city fibre network in the industry. If both the networks RCom & RJio are complementing each other in their coverage, they will have the Largest Optical Fiber Network in India, good enough to launch FTTH Broadband or 4G LTE High Speed Mobile Broadband.

4G LTE Microwave Network Gears
Sources have also indicated that Reliance jio has placed orders for microwave units (20,000 from Ceragon + 5,000 from Dragonwave).
Reliance Jio Infocomm Testing 5 Data Centers in India
Reliance Jio has already built 5 data centres nationwide. This places the company among the larger data centre capacity owners in the country (though we caution that actual capacity of each data centre can vary widely. Sources indicate that Reliance Group Chairman wants to have at least one Data Center per State in India.
Lack of information is leading to a view that not much progress is happening at RJio. Our channel checks suggest fair amount of progress done by RJio on its telecom rollout project. A conclusion from all our channel checks is that the network is not a niche, data focused, geographically concentrated network, but a fairly large, well spread network with significant capacity being built across the telecom value chain.