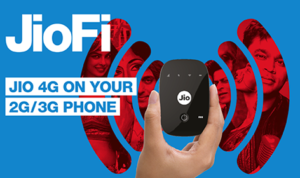 Reliance Jio demonstrated its offerings across various ecosystems, such home, automations, payment solutions, entertainment, gaming, education, connected cars etc.
Jio Connected Car Solution
The connect car platform will help automobiles to become Wi-Fi-enabled with the help of Jio hardware. It will also help in providing users with information about car location, switching on the air-conditioner before entering a car and enhance user safety by sending panic alerts and warnings about handling issues, such as, braking hard, driving at high speeds at lower gear, etc.
Jio Home Entertainment / Security / Automation Solution
Jio demonstrated home automation, IoT and surveillance systems. The company is in the process of laying its optic fibre network across all homes in cities & towns evident from the presentation of Tariq Amin where he said they want to wire every building in India which will provide high speed Broadband and TV to its users.


By connecting Jio Set-top box to the HDMI port of their TVs, users will be able to convert their normal TV into a smart TV and get access to Jio's applications, such as, JioTV and JioCinema. This will offer time-shifted viewing and the consumer can go to programmes up to seven days ago. This will come with a six-key remote and offer voice recognition and storage of bookmarks. The shield box will also have a joystick for gaming applications as well as a voice-enabled controller. Users will also be able to plug headphones into the controller to mute their television. Users will also get video calling (TV to TV and phone).
Through its connectivity, RJio will provide remote interface for the following: (1) Home surveillance – indoor / outdoor camera, smart lock, doorbell, chime; (2) sensor alerts – motion alerts, smoke alert, flood alert; (3) smart plug – wireless access of consumer durables (switching on/off) which can be used from remote locations.
JioMoney Allows users to make instant cash transfers, recharge phone, digital TV, etc. Jio is also trying to provide its users the option to refill their digital wallets by paying cash and withdraw cash by visiting outlets. JioMoney is also in talks with different stakeholders for use of near field communication (NFC) technology for making payments across toll booths and public metros, etc. With the help of NFC technology, amounts will be directly deducted from Jio wallets, while crossing a toll booth or metro ticket check post.
With wide bouquet of Digital Life offerings where "Bandwidth" becomes the essential commodity, Jio expects data demand to grow to 5-6bn GB/month from 0.2bn GB/month before the JIo's launch and 1.2bn GB/month currently. Jio has enough capacity to meet ~60% of industry demand. We expect incumbent operators to continue to invest in capacity building, leading to sustained capex intensity.