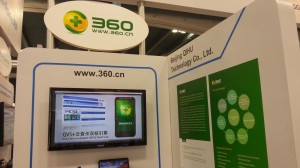 Qihoo continues to grow its search market share in China and strengthens the industry #2 position with 16-17% search query share by July 2013. We believe Qihoo's target of 20% search traffic market share by 2013 is on track. Qihoo's market share of China's online search market by page views (PV) increased to 16.3% in July 2013 from 10.4% in Dec 2012, according to CNZZ. Qihoo continues to grab page view market share from Baidu, whose share declined from 71.7% in Dec 2012 to 67.7% in July 2013. Qihoo is also building an Intelligent Search Monetization System.
Qihoo believes market share and user experience improvement is more important than monetization in the near term. Management believes Qihoo can change the competition landscape and customer behavior more significantly after it gets over 20% search traffic share, which is important for search monetization as well as the strategic positioning of the Qihoo platform.
Qihoo management expects mobile games will see a faster growth trajectory than in the early stages of PC online games, partly due to a much bigger user base and more genres of paid games. Qihoo had more than 270 games (Web & Mobile) and over 440,000 paying gamers by 2Q13.

Qihoo apps store download traffic is currently 30-40% of Android apps store market share, according industry channel checks. Management expect Qihoo will maintain No.1 market share in Android apps stores. Management believes the iTunes-like mobile assistant is a more efficient channel than many rival apps stores for distributing big apps like games. Total smartphone users of Qihoo mobile security products reached 338m, vs 275m in Mar 13.
Qihoo started of as a mobile security products, and has a top-4 user base and platform traffic, in the China Internet and Software space. Qihoo has gained no.1 market share in browser, no.1 in directory page and top 3 in Android apps store, to direct and monetize traffic in its platform mainly through ads, search and virtual items.