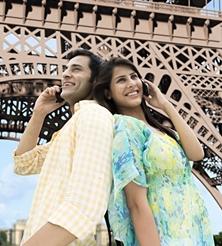 The Department of Telecom (DoT) has released Notice Inviting Applications (NIA) for spectrum auctions in the 900MHz & 1800MHz bands to be conducted in January 2014. Analysis of the NIA reveals that the quantum of spectrum to be auctioned in the 1800MHz band is much higher than market expectations. Additionally, in most circles, large tracts of liberalized contiguous spectrum are available in the 1800MHz band, implying that operators will have greater choice for building their data arsenal in addition to 2G Voice Services.
1,800 MHz spectrum will be auctioned in all 22 circles. The quantum of spectrum varies from as low as 2.4 MHz (paired) in UP (West) to as high as 30.2 MHz in the Tamil Nadu (including Chennai) circle. 1,800 spectrum being put up for auction includes the current 1,800 spectrum holdings of Airtel / Vodafone in Delhi and Kolkata and Vodafone / Loop in Mumbai.
The Following Chart Shows that a whopping 403.2 Mhz in 1800 Band will be auctioned. Price per 1 Mhz of PAN India Spectrum in the 1800 Band is fixed at Rs 1,750 Crore.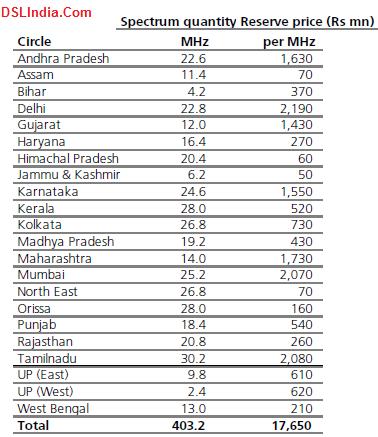 Equitable Distribution of Spectrum for Serious Players
The auction is governed by spectrum caps; no player can have more than 25% of the total spectrum (across bands) in any circle and more than 50% of spectrum in a particular band in any circle. This implies, in Mumbai, even if Loop Mobile isn't able to bid for its 8MHz spectrum, Vodafone won't be able to garner the entire 16MHz spectrum held
by private operators in the circle.
No Bidding War for Spectrum
No frenzied bidding is expected in the 900MHz spectrum auctions for the metros due to the Equitable Distribution Rule as clarified above. While few serious players remain (new entrants are unlikely to bid for spectrum); implying that price discovery could happen at or around the reserve price. Choice availability to serious players for their long‐term data deployment needs is the biggest advantage as the Companies can now plan their Telecom Roadmap.