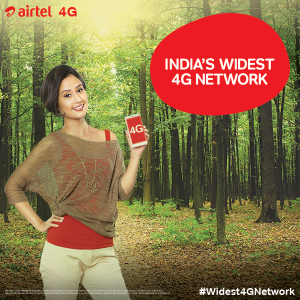 India's Largest Telecom Operator, Airtel has acquired 2300MHz in 8 Circles from Aircel to complete Pan India 4G-LTE Footprint by virtue of combination of 1800Mhz and 2300Mhz contiguous spectrum blocks.
The acquisition of spectrum in three circles has been done at a total consideration of INR35bn (~4% of current net debt at the company). Aircel had paid INR 34bn for this spectrum in the 2010 auction, which implies a 47% premium that Bharti has paid when adjusted for residual life. The same spectrum has a reserve price of INR 44bn in the upcoming auction, so Bharti has only paid a 14% premium when adjusted for residual life vs this. The impending entry of Reliance Jio has prompted this urgency to acquire this spectrum and ring fence the 4G offering, in our view.
Airtel leaves Idea & Vodafone Vulnerable to Jio
Bharti Airtel Mobile Data coverage [3G or 4G] now stands at 100% of its revenues vs 87% for Idea and 80% for Vodafone. In 4G specifically, Airtel looks even stronger with 100% coverage vs 61% for Idea and 50% for Vodafone. Bharti already has a head start vs incumbents in 4G rollout. We believe that its leadership position in data should only widen and should make it the most resilient in the face of Reliance Jio entry, possibly also help it gain market share vs Idea and Vodafone. Comparing LTE spectrum footprint build-out urgency being shown by the three incumbents, Airtel continues to be the most aggressive, Idea has chosen a 'hedging' approach while Vodafone continues to be 'Short LTE' (if one were to call R-Jio and Airtel 'Long LTE').
Why Airtel may Skip 700Mhz Spectrum Auction ?
Going forward, Airtel's spectrum requirement would be purely discretionary, i.e., where it feels customer demand could outpace network capacity, limited in the near future, in our view. While previous auctions posed risks due to business continuity disruption in case of a loss, the major risk in the next auction is the highly priced 700MHz spectrum, where the overhang for Bharti stands reduced post this acquisition.