Posted by
Webmaster
on Jan 31, 2015 in
Web 2.0
|
Comments Off on Battle for Supremacy in Cloud – Apple Vs Google vs Microsoft
Empirical Data suggests that iPhone ASP premium of $300 / device is driven by consumer perception of superior hardware/aesthetic design (materials, industrial design, brand), given we believe Android and iOS software capabilities are converging, and Google is ahead in Cloud Services. Apple CEO Tim Cook has shared his belief that Google is Apple's top competition in Cloud Services. What is Cloud Service Ecosystem ? The ecosystem includes, Cloud Services to Consumer, 2) Cloud Services to Enterprise, and 3) Portals to Cloud Services within third party apps and devices.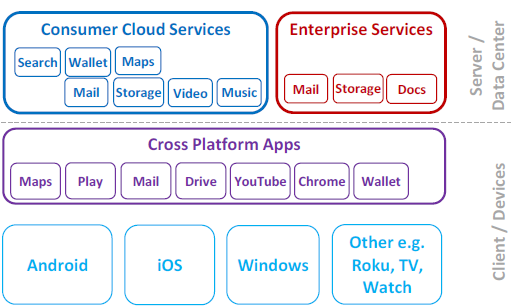 In addition to providing scalable back-end data center infrastructure for Consumer and Enterprise Cloud Services, the Cloud Services Ecosystem also includes app portals made available across a broad range of devices, to connect those devices to the Cloud Services infrastructure.
Compared to iTunes, On PC/Mac, a standalone iTunes app must be installed to access "iTunes in the Cloud". In other words, iTunes is not a fully Cloud-based service that can be accessed through a web browser, like Google Play. We think this means Google is in a position to monetize and grow its Cloud Services at a faster pace than Apple.
In the Education Technology Market, over the last ~2 years, Chromebooks have taken share from iPad, and we think Chromebooks are well positioned to continue to take share from iPad in ed-tech. Google Classroom is accessible from anywhere, anytime, using a web browser. In contrast, iTunes U can only be accessed using a device with an iTunes app installed.
How Google Beats Competition in Consumer Cloud Services ?
Search Advertising is Google's core business which inherently requires Google to organize and process information and content available across the internet such that it is made accessible broadly, quickly and efficiently.
Google is also the leader in Distributed computing which is intrinsic to search. Applying and extending these technologies, Google is able to deliver Cloud-powered mobile apps, and 2) enhancing intelligence of Cloud Services by sourcing knowledge, data or content from mobile devices (e.g., Cloud-sourced navigation apps like Waze).
Google's Service More personalized but Violates Individual Privacy
In an increasingly information-centric world we think it is impossible to personalize a product or service for an individual without first collecting information about the individual. While Apple appears to have taken a strong position in favor of privacy, Google seems to be offering choice and option to consumer, which leave the choice to their users rather than imposing a privacy preference upon their users.
Currently, Apple is over-earning on hardware, is our belief that iOS and Android software / service capabilities are converging – in other words, we do not believe that iOS software/services on iPhone are differentiated enough to explain Apple's hardware surplus of ~$300 per device. We think that Apple will have to rely more on Microsoft or Amazon to Build Highly Scalable Cloud Platforms to compete Google in the forthcoming IoT war.