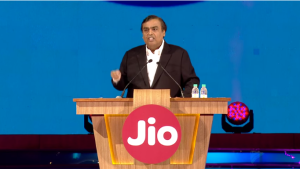 Reliance Jio announced it has filed tariff plans with TRAI. These would be applicable from 1st Jan-17, post-expiry of the free service offer, renamed as Jio Welcome Offer . Akash Ambani appears to have mastered the lessons of Chinese military strategist Sun Tzu's The Art of War and has hit Airtel, Vodafone and Idea where it matters most – Voice Revenues which account for 75% of their Billing.
We do not think Jio's plans would have a significant impact on mass mobile broadband data market with ARPU of Rs200 400, because (as per Jio media release), there are no monthly packs or rental plans between Rs149-499 price-points. You should note that as on today, 1 GB 3G Broadband pack is the most popular amongst Wireless data users in India. Therefore, we expect Jio to announce more plans later, depending on: subscriber scale-up, customer experience, network performance, and resolution of interconnect / MNP issues with A-Vo-Id Operators.
Jio's tariff strategy for now is to offer Unlimited domestic voice calls and SMS for a monthly spend of < Rs150; Large data buckets, with unlimited night usage [2am-5am] and access to WiFi-hotspots; and Low effective data yield, ranging between Rs57-83 per GB for price-points above Rs500. However, going forward this will change to directly dent the coffers of Airtel, Vodafone and Idea's mobile data play. On back of the free service offer, Jio may be able to garner 30-40mn customers by end-December. This would cause qoq de-growth in data revenues of incumbents in 3Q, and possibly in 4Q as well. Stay tuned for the next round of Mobile Broadband Data Wars in India.
Update: There are massive complaints on Reliance Jio 4G SIM Activation and Customer Service which is taking a knock on the brand value of the company.