Posted by
Webmaster
on Nov 14, 2015 in
SmartPhones Tablets
|
Comments Off on Reliance Jio LYF SmartPhones Ready to Hit Market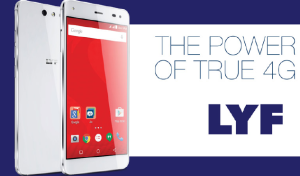 Greenfield 4G LTE Telecom Operator Reliance Jio Infocomm has been aggressively negotiating deals to create an affordable 4G LTE SmartPhone eco-system. As a 4G only operator Jio is pushing the improvement of 4G smartphone in India. Apart India's 2 biggest handset companies (by market share) Samsung and Micromax, Jio is also working closely with almost all handset companies to not only have their own branded phones but also ensure other companies come up with their own smartphones.
The company is looking for 4G phones to be priced between Rs 5,000-25,000. Jio would need a 5 band phone which works on 900, 2100 bands along with 800, 1800 and 2300 for seamless connectivity.
Jio has partnered with atleast 5 OEMs (Original Equipment Manufacturer) to white-label their own brand on 4G enabled handsets. Jio intends to launch its own brand of 4G smartphones LYF, in Nov-15. The LYF phones shall allow Voice over LTE (VoLTE), Voice over Wi-Fi (Vo-WiFI) and HD Voice and HD quality video calling. The company has already tied up with 1,200 primary distributors. Distributors have given the Handsets to Reliance employees and are waiting final approval from Mumbai for sale to General Public.
Jio has asked handset manufacturing partners to make 4G phones in India. If the mobile makers agree on a configuration which Jio wants, then the company will buy all the handsets they make in India. Jio has approached mobile headset makers Intex, Karbonn, Lava, Lenovo and Micromax among others to buy any 4G phones made to its specification in an Indian unit. Jio has also signed deals with Chinese headset makers Huawei, ZTE, Alcatel OneTouch (TCL Communications), CK-Telecom and Beijing Tianyu Communication Equipment-owned K-Touch for procurement of smartphones. Orders for around 5 million smartphones with these vendors are already placed and contract manufacturer CK-Telecom, has got the largest share of the order.