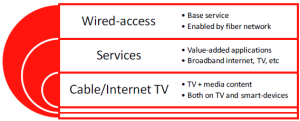 The aim of Reliance Jio is to provide not just broadband but other value-added services like cable TV via this highspeed, high-capacity channel. Leverages the massive infrastructure built for the telecom business. Jio has already laid out 250,000 kms of optical fibre across the country to provide high-speed broadband access. However, broadband can only use a small fraction of this capacity. Bandwidth-heavy multi-stream multimedia content is the best way to utilize the available capacity of this resource, which is a sunk cost.
Today the ARPUs for high-speed wired broadband being provided by MSOs like Hathway/ Siticable/ DEN are ~ Rs 300 (the Docsis high-speed service ARPU is a much higher 750-770, but may not be representative), and their base service of cable TV earns ARPUs of ~Rs200 in Phase 1 digitized areas. Hence, for a broadband provider which bundles cable TV content, the upside to ARPUs can be substantial.


The bottomline impact of this will not swing the needle substantially for RIL. But though this will certainly not change the investment case for RIL, Jio's financials could get a strong base via this business while it fights a pitched battle on the wireless front with well-entrenched telecom players.
The FTTH cable TV offering will provide cross-selling opportunities across the Jio ecosystem
Jio is likely to go the HD way DTH operators typically prefer not to retrieve set-top boxes from
customers as the cost of retrieving a set-top box from a household tends to be higher than the value of the set-top box. It is precisely for this reason that we believe offering SD does not make much sense for Jio. As the cost differential between a HD and SD set-top box has narrowed to USD3-5, DTH operators are aggressively promoting HD over SD. Taking cues from the experience of DTH operators, we believe Jio is likely to offer only High Definition (HD).
The intent in our view is to make the viewer medium-agnostic to the extent possible; so that TV content is ubiquitous along with Jio's broadband access whether via TV (typically wired) or smart devices (wireless). The Jio Play app (currently under beta-testing by RIL employees) aims to provide all the TV content (live as well as playback) on smart-devices, just like it would on a TV.