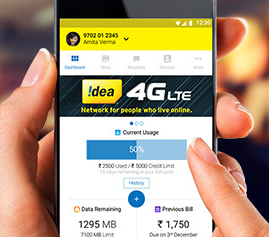 Airtel and Idea recently announced price cuts / Increased Benefits on Pre-Paid 3G / 4G Mobile Data Packs. They have announced steep price cuts on entry-level and high-volume data packs. We expect Vodafone to follow suit soon. Effective cuts come essentially in the form of higher data allowance on smaller packs at one end and higher volume packs at the other end. Effective data realization (per MB) cuts range from 20% to 40% on different packs.
Idea and Airtel have a very Smart Analytics team which suggest the dynamics of pricing in the Indian Wireless market. Both the companies have not touched packs with monthly allowance between 300 MB and 1.5 GB which are the most sought after in the price-affordability equation.
At the lower end, the Idea is to induce the current large base of 2G customers to move to 3G/4G. The cuts made to higher volume packs (3GB and above post revision) is to make the pack-upgrade price-value equation substantially better than earlier for the belly of the current 3G/4G user base. Upgrade to a 3 GB plan (which now costs around Rs 450 for a 4-week validity) from a 1 GB plan (untouched; costs Rs 200-250 for a similar validity) now involves an extra spend commitment of Rs200. The Net impact would depend on how customers in each of these buckets react.